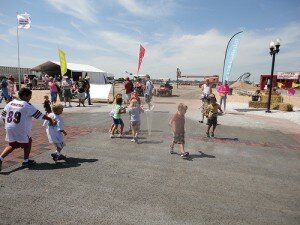 In case you missed our post last week and aren't a die-hard fan of foods on a stick, you may not be aware that the Nebraska State Fair begins today. You can read more about dates, times, and State Fair history in our blog post from last week, but the good news is that the fair is filled with too many STEM-minded things to fit in one post, which is a good problem to have, in our humble opinions.
Even if you don't love STEM, the fair is a fantastic place to enjoy the Nebraska community, find a learning experience that interests you, and mingle with your fellow Nebraskans. We'd recommend making a day of it—that's what we'll be doing! You can spot us at all the STEM exhibits with a corndog in hand and a smile on our faces.
For Youth: Free 4-H Educational Activities: Think of these as free classes at the University of Nebraska-Lincoln for both you and the kiddos! Thanks to Nebraska 4-H, there will be free hands-on science experiments hosted in the 4-H building daily. In the past, these experiments have involved robotics, battery making, sound vibrations, surface tension, arctic climate changes, and even exploring the science behind tobacco addiction. If you'd like to learn more about 4-H Youth Development at UNL, click here, and here are the dates and times of these educational activities for youths.
Model Planes and Boats Display: For all those aeronautical engineering or manufacturing nuts, this is your chance for a little aero- (and nautical) fun! Stop by the Model Planes and Boats display hosted by the Grand Island Modelers Club in the Fonner Park Concourse. Learn about the make and model of private, commercial, and military planes, not to mention helicopters and boats! Club members will be onsite to tell stories and offer insight about the models on hand. Especially for little ones interested in machines that swim and fly, this could be a perfect way to spend a day. Read more about the mission of the Grand Island Modelers Club here.
Grow Nebraska General Store Commercial Exhibit: This fantastic exhibit was brought to the state fair in 2003 as a way to showcase products that are designed, made, and manufactured in Nebraska. In the past, products have featured carved furniture, metal sculptures, and even golf clubs made in Nebraska. Stock up on gifts for the rest of the year, or simply browse Nebraska-made products for yourself.
Antique Tractor Pull: Anyone interested in machinery, the history of machines, or mechanical development needs to stop by the Antique Tractor Pull, hosted by the Platte Valley Antique Machinery Association. They feature some truly spectacular antique machines in a variety of weight classes. It's an annual favorite! To learn more about the PVAMA, check out their website and past photos of antique tractors here.
Keep up with the State Fair Facebook page to learn about new events, state fair happenings, and more. See you down at the fair!
—
photo credit: Nebraska State Fair Sprinkler via photopin (license)