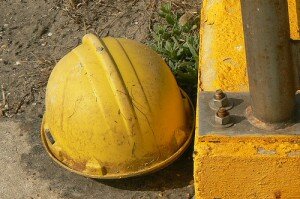 If you caught our blog post from a few months back, you'll know that construction is "the place to be" these days.
There are jobs galore, plenty of opportunities, and a major need for skilled workers to help build and maintain a wide variety of structures across the country. According to a 2014 survey from the Associated General Contractors of America, construction firms not only plan to start hiring more, but overall employment growth in the industry will increase by 1.6 million jobs through 2022. Construction is a fairly sustainable profession, as there's a constant need for new builds or revamping old ones.
If you're interested in the construction industry but not sure where to begin, this is the post for you. Here are some of the best jobs in the industry to begin with as a newbie:
Cost Estimator: Cost estimators coordinate with engineers, architects, and construction managers before a project begins to analyze all of the requirements of the project. This includes technical, mechanical, and fiscal needs to complete the structure as efficiently as possible, meaning that this career is a good fit for those who are hyper-organized, meticulous, and critical thinkers. This occupation will also increase by more than 26 percent before 2022, so job security is a major plus.
Construction Manager: This job is a good fit for a hard worker, as construction managers are responsible for planning, budgeting, and overseeing a project from start to finish. If you like to manage others and complete projects from initial build to completion, you'll enjoy being a construction manager. It's a good idea to work on a bachelor's degree in construction management, architecture, or engineering if you're one of the nearly 80,000 new managers expected to enter the field.
Plumber: Although you might not associate this important job with the construction industry, they're absolutely vital to the building of a new home. They install, inspect, and repair pipes and fixtures that carry water, steam, air, and gas. Becoming a plumber requires a certain amount of physical strength, stamina, and ability to work in a variety of environments, and there's some serious compensation available for those who are trained to do the job right.
Construction Worker: General construction work is great for those who enjoy moving around and experiencing variety in when and where they're working. From digging tunnels underground to repairing highways or constructing skyscrapers, construction workers experience a great deal of change on a day-to-day basis. By 2022, there will be 259,800 new positions in construction.
Glazier: You might not have heard the name "glazier" before, but these important skilled workers are responsible for cutting and installing glasswork on buildings. There will be 8,000 new job openings before 2022 for those passionate about working with glassware.
For more construction jobs, check out this list from US News Careers, where you'll also find more information about average salaries and jobs available now! Questions? Comments? Leave them in the section below!
—
photo credit: Yellow, curved and straight via photopin (license)