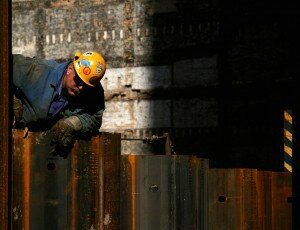 Back in January, we reported that the construction industry in Nebraska is alive and well: with one notable exception. Despite the projections of the construction industry to grow exponentially in 2015, the sector is struggling to find professional workers that can help them keep up with the demand.
In January, we reported that 71% of firms said that they will continue to have difficulty finding professional workers like supervisors or estimators as well as skilled craftspeople– meaning that although they'll increase in business, the dearth of labor could significantly hinder growth.
This week, the Journal-Star interviewed Jean Petsch, executive director of the Associated General Contractors Nebraska Building Chapter, to find out why: Too many Nebraskan construction people are retiring, and not enough younger people are stepping up to the plate. "Basically, it comes down to: We have an image problem, in the eyes of students and young people and educators. Practically all the state's parents, teachers, and kids totally lack awareness of our industry, the full array of types of jobs and positions, and no idea how well those positions pay."
Sound familiar? Construction, in many ways, has a similar problem that we see with other skilled trades, like manufacturing, engineering, or any type of career that is typically seen as a male-dominated, low-paying career path– when that simply isn't the case. "Entry-level, mid-level, they all pay well. You can come in at high school, you can come in with a two-year degree, you can do a four year college route. Construction worker pay in Nebraska averages $43,000 annually. That's ten percent more than all private sector employers in Nebraska. Talk about a concrete measuring point."
So, on buildournebraska.com, the industry has worked together to drive awareness and recognition of the field. They make some awfully good points, in that there is always going to be something new to build, whether it's structures, roads, or bridges, and skilled craftsmen, project managers, architects, electricians, engineers, and more are all needed to help build Nebraska. Wes Ostreich, president of Cheever Construction identifies what may be behind the image problems in construction: "It's not appreciated or valued work. If you come home with dirty jeans and muddy boots, you could aspire to better. It's such a vital part of the economy. I think people remove themselves and only see that component, the backbreaking component. Drywallers covered in white mud."
In other words, the absolute necessity of the construction field's success is often underrated: "It's like it's nothing to brag about. We're the craftsmen who build the places everybody enjoys. The biggest battle is convincing parents. There is actually a business opportunity there, if they want to learn a trade. In our local Lincoln area we have gobs of subcontractors that are one-to five man jobs. You learn, and in a few years, you could be a business owner."
To learn more about the industry, look at available jobs, and more, visit buildournebraska.com or leave a comment in the section below!
—
photo credit: Getting It Done via photopin (license)