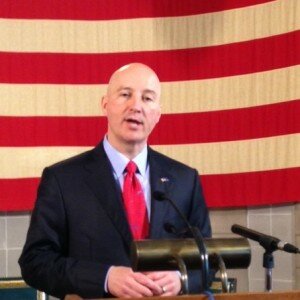 Nebraska Governor Pete Ricketts took office in January, and has been working tirelessly ever since to help promote Nebraska's economy.
One of the ways that government officials are able to do this is by taking trade trips, missions to meet with economic and industrial partners around the world. Ricketts's first trip took place this June, when he headed off to Italy, Belgium, and Denmark for a trade trip with an "agricultural emphasis." Ricketts hopes that this won't be the last of these endeavors: "Expanding the number of trade missions is a priority of my administration," he remarked.
One of the major spots on his agenda was the Expo Milano 2015, a global exhibition in Milan, Italy from May 1 to October 31. Over the six months of the show, more than 140 countries will showcase the best of their technology that hopes to provide healthy, safe, and sufficient food for everyone. Over the period, the Expo expects to welcome over 20 million visitors to the 1.1 million square feet of exhibition area.
The governor and his delegation of state officials, representatives from the U.S Milan Consulate and the Omaha Chamber of Commerce, leading members from the Nebraska Department of Agriculture and Economic Development as well as prominent business owners from the state, visited the "Sustainable Farm Pavilion" on June 9th.
During his visit, the governor reportedly discussed economic development, sustainable agriculture, youth technical training, local manufacturing, and the use of biofuels with CNH Industrial, represented by Carlo Lambro (President of New Holland Agriculture) and Dirk Bergmann (Head of Powertrain Research and Technology). CNH Industrial operates a Combine Center of Excellence in Grand Island, Nebraska, where they manufacture three of their harvester models.
They're a major employer in Grand Island, with a workforce of more than 800 individuals in their 800,000 square foot manufacturing space. CNH is known for their wide variety of brands and their commitment to using biofuels as part of their investment in the state of Nebraska. Since Nebraska is the top state in terms of cattle feed, where its ethanol plants produce more than six million tons of livestock feed annually, it makes a massive difference in terms of sustainability.
Ethanol as a biofuel is one of Governor Ricketts' primary areas of advocacy, according to stockhouse.com. At the meeting, Ricketts discussed a shared commitment in promoting the use of alternative fuels, like natural gas and the strategically valuable biomethane. To learn more about CNH Industrial's commitment to sustainability, biofuels, and more, including at their Grand Island location, you can check out a materiality analysis and organization profile here.
It's exciting to see Nebraska representatives across the world promoting sustainability in manufacturing! We're proud to have a global leader like CNH Industrial located in Grand Island.
Questions? Comments? Want to learn more? Leave a comment in the section below!
—
Photo credit: Nebraska Radio Network