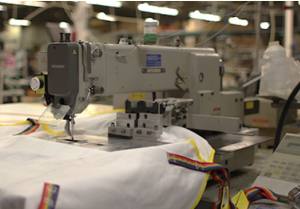 This post is part of an ongoing series of manufacturer profiles. The blogs will cover some of the many names in manufacturing in the state of Nebraska. Check back later for more posts in the series. To see previous posts in the series, click here.
There are some really amazing contract manufacturers in the state of Nebraska. Contract manufacturing is dynamic, providing custom products for specific requests and companies.
Today, we'd like to highlight a company that's been in business for over 20 years, providing exceptional service to their customers. Humboldt Specialty Manufacturing, located in Omaha, are contract manufacturers who specialize in multiple fields of production. They work in metal fabrication, custom assemblies, industrial sewing, product development, printing, media production, and more.
The contract aspect of their manufacturing team means that they have a creative team ready to take orders from concept to prototype and into production– a complete package of engineering services. "We use SolidWorks Parametric Modeling to bring your ideas to life," they say. "Using our experience with different materials, we can not only make your idea functional, but we can make it cost effective as well."
They begin with designing, developing, testing, and manufacturing. They also select materials, design the manufacturing process, build prototypes, create functional packaging designs, and take concepts to reality– what an amazing career.
To work with current media trends and new media, they have invested in an in-house media team who specialize in visual communications. And as their business grew, they installed equipment to perform laser cutting, metal fabrication, welding, and power coating in-house as well. Finally, their sewing machine inventory includes single and double needle machines suited for heavy materials, stitch machine, sergers, bar tack machines, a fabric cutting facility, and more. This means that they can produce almost any sewn product imaginable!
So, what don't they do? Great question. They are also a recognized leader in the engineering and manufacture of grass leaf collection systems for major OEM manufacturers, offer their own proprietary line of commercial lawn and compact tractor catchers, and they have a full service screen printing facility equipped for both large and small image screen printing. Over the last 20 years, they've produced a wide variety of animal products either patented or are unique to the animal industry; many of these products are specialty items brought to Humboldt to manufacture to complement lines they already offer.
As far as companies go, Humboldt is unusually diverse and well-rounded in terms of manufacturing production. Do you like having each day be a different, new challenge? Do you enjoy working with products from start to finish? Contract manufacturing and working on individual, specific products could be a great fit for you.
Questions? Comments? Want to learn more? Leave a comment in the section below anytime!
—
photo credit: Humboldtspecialty.com