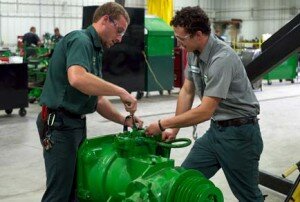 Community college, technical school, part-time school, the place where you get an associate's degree: Community colleges have plenty of descriptions and certainly reputations, but what are they really? Why do you go to one? Who goes to community college in the first place? Is there a difference between community college and technical school?
There are plenty of unanswered questions out there about what's happening down the street at your local community college, and we're here to answer those questions.
Nebraska has a fantastic network of community colleges, including Central Community College, Metro Community College, Mid-Plains Community College, Northeast Community College, Western Nebraska Community College, and Southeast Community College. As you'll note from the names, they serve different geographical locations around Nebraska, generally focusing on a region or general cluster of communities.
For example, Central Community College serves a 25-county area in central Nebraska of around 14,000 square miles with a population of over 300,000. This means that community colleges tend to be anchored to a central administration but have other campuses in different cities (for CCC, central administration is in Grand Island, three main campuses are in Columbus, Grand Island, and Hastings, and educational centers are located in Holdrege, Kearney, and Lexington). In other words, community colleges do everything short of actually coming to your home to make it easy to learn.
Who attends community college? Well, most of these schools offer a wide variety of degree programs that can lead to a great career after two years of full-time study. Alternatively, many graduates complete two years, and then transfer those credits to a four-year college or university if they want a bachelor's degree. Community colleges are often referred to as technical schools, not because they only provide technical education, but they often have more hands-on opportunities than traditional universities.
Degrees like John Deere Tech at SCC, or Motorcycle, ATV and Watercraft Technology are often specialized to appeal to a specific career or profession that requires skilled education. This isn't universally the case, though. From nursing to criminal justice to early childhood education, community colleges can be a great place to build a foundation of education that can transfer to additional bachelor's-level education if necessary.
Those who are already in the workforce and want to strengthen their skills in a given area, or learn a new skill entirely, also can take online or part-time classes at a community college. Western Nebraska Community College offers certificates in business, informational processing, cosmetology, and more. These classes are often flexible to accommodate busy lifestyles. There's often classes offered in the evenings, weekends, online, and during lunch hours for busy professionals.
We're lucky to have such great community colleges in Nebraska, and are going to spend some more time discussing their awesome potential on the blog (especially for military veterans and the long-term unemployed!) Stay tuned for more!
Questions? Comments? Leave them in the section below!
—
photo credit: Southeast.edu