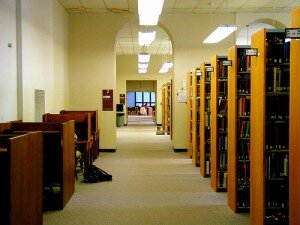 Public libraries are a tremendously underrated resource for all types of students, and we tend to forget that these miraculous places are often not too far away from where we live, work, or study.
Imagine: A free space to study, work, and learn. Computers to use for those who don't have them, books to read for free, audiobooks to rent– for free. Public libraries often have study rooms for study groups to use, or for programs held after school or on weekends for anyone who wants to learn about something new.
Essentially, they're free knowledge for people of all ages, not just students. Want to pick up a new hobby? Head to the library and find a book on it or work through a computer tutorial.
For both students and adults, there's a few ways using your public or school library can help you learn, grow, and succeed. If you think that it's only of use to people interested in English, reading, or writing, think again! Even those interested in STEM subjects or the skilled trades can greatly benefit from resources available at the library.
Check Out the Teen Space: Public libraries often have programming focused specifically towards young adults or teens. Take the Columbus Library, for example: When Columbus Middle School has early dismissal on Wednesdays, the library provides special drop-in planning for after school visitors. In addition to books, the teen space has special collections that can be accessed on request, thanks in part to the Nebraska Library Commission. Last year, they introduced Sphero Robots and were able to purchase two Ozobots (tiny robots that come alive on your iPad) for students interested in STEM concepts. The Teen Space also has a standing pegboard marble run that patrons can use at their leisure while visiting the space.
Computer Classes: Are your computer skills rusty? Do you want help uploading a resume, downloading an eBook or free music, or creating an email account? Take the Omaha Public Library, for example: The library offers computer classes as well as open "Tech Time" to ask all of your computer related questions. If you're a long-term unemployed adult trying to create a resume and apply for jobs, they'll help you (for free!) do both of those things. Find a full list of classes here.
Use the Meeting Room: Want to make a study group? Work through a book with others who are interested in the same subject? Learn how to code in a meeting where everyone brings their laptops? Work on science or math homework with other people in your grade? Most public libraries, like the Kearney Public Library, have meeting rooms or study rooms available to be reserved during the week.
Questions? Want to learn more? Send us a tweet, or leave us a comment in the section below anytime!
—
photo credit: Carrier Library 2nd Floor via photopin (license)