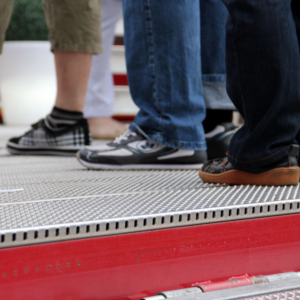 If you're driving around Omaha near 132nd Street and Highway 70, you may have noticed a tiny new addition on seven acres of land by the intersection: German sheet metal part specialist Graepel recently opened a new, 45,000 square foot manufacturing plant less than a mile away from their previous location.
The new plant means that the company is bringing nearly 30 full-time jobs to the metro, as well as the potential for 10-15 more depending on the success of the plant and the growth of agriculture in Nebraska.
The expansion is a positive indication for Graepel, as well as for the Omaha community. At the grand opening of the plant, attended by representatives of the family-owned company flown in from overseas, Governor Pete Ricketts spoke about the necessity of companies like Graepel to growing the Nebraska economy: "What we want to do is create more and better-paying jobs here in our state to keep our kids and our grandkids here, and to attract people from across the country to come here so we can grow," Ricketts said.
In terms of manufacturing, the plant itself is a major feat. Built in only 150 days, the construction team encountered unusual amounts of rain and other challenges that come with building an entirely new building on "greenfield land." German CEO Mark Zumdohme attributes this success to American pragmatism: "The mentality and investment-friendly pace of Americans put Graepel in an excellent position for the growing business in America."
The plant is 4200 square meters, with 90% of that space used for actual manufacturing and machines like hydraulic presses, plate rolls, and laser cutting machines. The space is also engineered for safety to anticipate tornadoes: "The building envelope is designed as a steel structure with prefabricated concrete walls. Inside, there is a tornado shelter that can hold up to 25 employees," says Zumdohme.
The German company, Graepel Group, has been manufacturing in Nebraska since 2010, when they leased a 20,000 square foot at 13205 Centennial Road. They primarily focus on contract manufacturing for clients in the agriculture sector, but also supplement their business with construction equipment and heavy-duty trucks, amongst other industries. "Definitely all the large ag equipment manufacturers are suffering right now, but what benefits Graepel is that we won so much new business from (those companies) that we can still run our operations sufficiently," Zumdohme explained. This is evidenced by the fact that since 2013, Graepel has doubled its Omaha workforce.
In particular, the company is doing well with their perforated sheet metal products. Corporately, the group has around 550 employees and generates about 10% of their revenue in North America. Thanks to developmental expertise and high product quality, they're poised for success in 2015 as well.
Visit Graepel's website to learn more about the company, as well as inquire about careers at their Omaha, Nebraska location! Questions? Comments? Want to learn more? Leave a comment in the section below anytime!
—
photo credit: Graepel