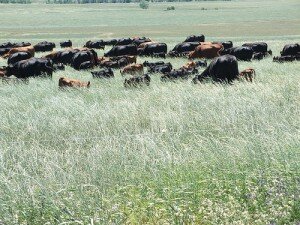 We're a Great Plains State, after all: Hence, cattle and beef production is vital to the Nebraska economy in a plethora of ways.
In fact, Nebraska has the top three "cow counties" in the nation, and cattle production is the state's single largest industry. This means income for businesses in towns across the entire state, and an important impact on other economies and productions as well.
According to the Nebraska Beef Council, nearly 5 million head are finished and marketed in Nebraska (and in a state with 1.8 million residents, this is a fairly significant number). The multiplied impact of the $6.5 billion in cattle sales each year is $12.1 billion, and there are over 20,000 beef cow operations in Nebraska alone.
Why is this the case? Well, about half of Nebraska's land mass is either rangeland or pasture, and more than one billion bushels of corn are produced here each year. 40% of this corn can be fed to livestock in the state, meaning that our natural resources help the state maintain efficiency as well as self-sufficiency. Including chicken and pork, brands like JBS USA, Hormel, and Tyson all take advantage of this opportunity to grow here, where the fields are fertile and there's plenty of room for opportunity.
In Western Nebraska, the next two years will see this industry continue to grow. Investors in a proposed beef processing plant say that they're two months away from choosing a site in Western Nebraska to open their plant (which they hope to do in approximately two years to process 500 cattle per day). And after five years, the plant should theoretically employ about 550 workers– an impressive number for a rural Nebraska area. Josh Berger from the Tetrad Property Group of Lincoln and Omaha, says the plant will hire workers locally if possible: "We think we can organically grow that workforce right out of the Panhandle."
This new plant would bring back an era of business in Western Nebraska that was made obsolete by large beef plants that can process thousands of cattle per day. According to Berger, this new business model doesn't hope to compete with those plants, rather will provide a market for locally grown cattle. In the Panhandle now, the closest processing plants are more than 100 miles away, so local farmers will be thrilled to have a closer option that will also create jobs in the area. The plant is made possible by foreign investors, who've chosen this area in Nebraska for the availability of feed, water supply, and logistics, as well as the ability to deliver the finished product to the West Coast to be shipped to Asia (Berger says the growing middle class in Asia is expanding overseas demand for high-quality American beef).
For those interested in learning more about the food or meat manufacturing industries, check out this blog post and stay tuned for further developments in the industry, especially as foreign investment increases. This is a positive sign for the Nebraskan economy, and it's a compliment to the quality of our workforce that a plant is so desirable in rural areas of Nebraska.
Questions? Comments? Want to learn more about food manufacturing and processing? Leave a comment in the section below anytime!
—
photo credit: GuptillRanchTour (98) via photopin (license)