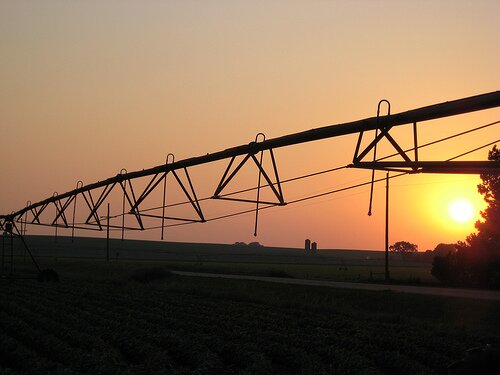 This post is part of an ongoing series of manufacturer profiles. The blogs will cover some of the many names in manufacturing in the state of Nebraska. Check back later for more posts in the series. To see previous posts in the series, click here.
If you keep up with the blog, this name might sound familiar to you. We recently featured Valmont Industries, Inc. in our list of major employers in Nebraska (as originally recognized by the World-Herald) and one that is known for a long history in Nebraska, as well as contributing to the economy by hiring significant numbers of Nebraskans. To see the full list, you can check it out here.
Today, though, we want to really spotlight more about Valmont Industries because there's a lot happening there that many people may not be aware of. This large, multi-million dollar corporation has locations throughout the United States, China, and Europe, but most don't know that their headquarters, corporate office, main plant, and aviation department is located in Nebraska–which is pretty spectacular.
Valmont's contributions to the Nebraska economy began back in 1946 with Robert B. Daugherty, a man with a dream hoping to run a small manufacturing company on a farm just west of Valley, Nebraska. After some time, Daugherty invested almost his entire life savings of $5,000 in Valley Manufacturing (the original name of Valmont Industries) and began building farm elevators. In 1947, Frank Zyback developed a prototype center pivot irrigation machine and in 1954, licensed that machine to Robert Daugherty. And in 1959, when Valmont began manufacturing steel pipe and tubing for irrigation equipment, the company saw an opportunity to develop markets throughout the United States for original equipment manufacturers, steel service centers, and private and public projects.
The company has only continued to expand and grow since, expanding into faraway places such as India, South America, China, and more. Today, they remain an industry leader in engineered products and services for infrastructure, as well as water conserving irrigation equipment for agriculture. Another important note is that sustainability is an important aspect of all their manufacturing, and one that they actively work to pursue in their processes. From engineered infrastructure products to coatings to tubing to irrigation and utility support structures, Valmont manufactures it all.
And as aforementioned, they are one of the largest employers in Nebraska, and certainly worth a look for those interested in a manufacturing career! Currently in Nebraska, there are jobs available for interns, welders, engineers, production supervisors, and much more.
It's an incredible boon to have a company of this size and stature headquartered here in Nebraska where they've always been, despite their rapid expansion and status as an internationally recognized industry leader! Questions? Want to learn more? Be sure to leave a comment in the section below, and we're happy to help.