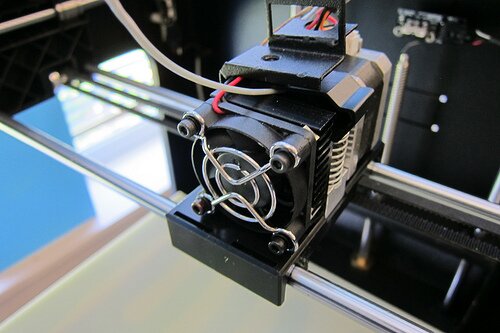 According to the Beatrice Daily Sun, two weeks ago, Beatrice High School purchased their first 3D printer. After a request from Media Specialist Carol Oltman and Skilled and Technical Sciences teacher Charles Brockman, the printer was purchased two weeks ago.
And apparently, it's successful thus far: "Whenever it's on, kids are around it. We want students to be able to create designs and actually print work to see the finished product," Oltman said. "The kids are very excited about it."
We're excited too–because it's actions like these that can help inform kids about the possibilities of technology and careers in the field. One CAD student, senior Alex Brown, created an iPhone case with the printer already (his first time using a 3D printer). He will graduate this year to study electromechanical technology at Southeast Community College, and eventually transfer to the University of Nebraska-Lincoln to study mechanical engineering. Brown, and other students, design their projects in Brockman's architecture I, advanced CAD, and mechanical II classes. In Beatrice alone, the number of students using the printer is expected to grow. After working out the obligatory bugs, Brockman says that 10-15 students will work with the machine this year. They hope to have a multi-piece project completed by the end of the year (potentially a trombone, according to one student).
Beatrice isn't the only Nebraska high school training their students in advanced technology, though. Take this video in which Jim Collison sits down with Jackson Cutsor, a senior at Omaha North High School working in 3D printing (watch the full video for more information). And although it may seem to many liked "science fiction," as U.S. News put it, high schools around the country that it is very real. Additionally, high schools are finding that 3D printers are more affordable than they seem at first glance. High school art teacher Martha Slack found her 3D printer on Amazon for about $500, and it's possible to acquire grants, or even fundraise with bake sales for a cause like this. Other options for teachers who want to use this technology are 3D printing pens, which can create small objects and ring in at about $100.
With teens now able to literally manufacture products in class, the options available by investing in a piece of equipment like this can change the way we look at manufacturing, and at high school. For struggling students, a creative project like this can also be a blessing: "It's been incredibly motivating for kids because it does allow them to be creative and think a little bit about some of the math and science behind what's happening," technology teacher at Mountain Valley High School told US News.
As high schools across Nebraska begin to acquire their own printers, we look forward to watching how student lives change as a result. Questions? Comments? Want to learn more? Send us a tweet or leave one in the section below anytime!
—
photo credit: Make Magazine 3D Printer Shootout Weekend via photopin (license)