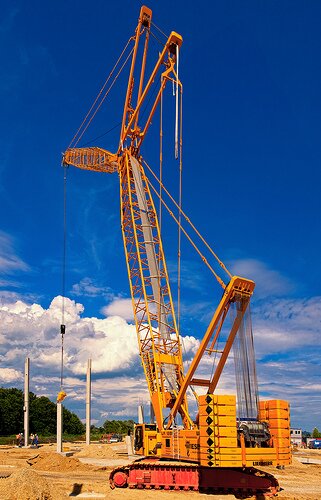 There's only so much projecting and speculation analysts can do about the future, but one way to get a good grip on what will be happening in the manufacturing industry in Nebraska is to do just that– talk to the manufacturers. That's why this week, when the Lincoln Journal-Star reported the results of a recent survey of actual construction manufacturers, we paid very close attention.
In a sense, the survey of the Associated General Contractors of America confirmed and established some details we already knew about the construction manufacturing industry, but it also revealed the gravity of some problems that simply aren't being solved. 17 Nebraska firms participated in this national survey, and generally fell in line with responses from over 900 construction firms in over 38 states. And for those interested in construction, engineering, or manufacturing of construction equipment or tools, it may be inspiring to know that 14% of the companies surveyed did $30 million of business or less in 2014.
Also according to the survey, 88% of Nebraska construction firms expect to add workers this year, and none expect to cut employment. In a world where companies are consistently evolving or changing, those looking for an industry with a comfortable sense of employment and relatively stable work environment will want to look closely at working in the construction field. You can look at the full results of the survey here, but just know that according to the national chief executive officer of the AGC, Stephen E. Sandherr, "Contractors are extremely optimistic about the outlook for 2015," and it could be the best year nationally for construction hiring in more than a decade.
However, some challenges still remain. In Nebraska, 71% of firms said that they will continue to have difficulty finding professional workers (supervisors and estimators, for example) and the same or more difficulty finding skilled craftspeople. Even though they'll increase in business, the challenge of finding people to do that very same work could potentially hinder growth.
This survey confirms that there is a very clear need in this thriving subfield of manufacturing for skilled workers and construction experts to help promote the success of these companies. If you're a veteran, long-term unemployed person, or student trying to choose your next step, the time has literally never been riper to step into the construction industry. Right here in Nebraska, take a look at the Construction Technology program at Metro Area Community College, or Building Construction at Mid-Plains Community College. Southeast Community College offers a Building Technology program, and Central Community College has opportunities in Construction Skilled & Technical Sciences. There are plenty of excellent programs to train interested people in the skills they need to succeed.
Want to learn more? Let us know, and we'd be happy to connect you with someone in the construction industry or at any of the above schools. Send us a tweet or leave a comment in the section below anytime!