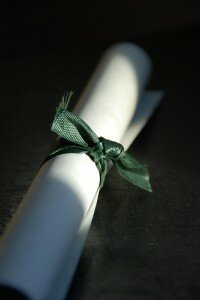 Maybe you've never thought you wanted to apply to college, or maybe you just aren't sure whether or not a four-year degree is a great option for you. What you might not know is that a two-year degree or diploma from a technical or community college is just as valuable for those looking for their new career, and a fantastic way to get started in a future manufacturing job.
Here are a few tips for those considering applying to a technical program or two-year degree at a community college, from the time when it's just a vague idea in your head to the moment you begin working on your application. For more ideas about great community programs in Nebraska, check out our program spotlights on the blog!
If you're still on the fence, be intentional and be honest with yourself about why you don't want to go to college. Are you sick of school? Maybe you don't want to be stuck in a classroom for four more years. Well, the good news for you is that most technical programs are a combination of classroom work and theory with hands on learning in a lab or technical facility. Additionally, there are plenty of students interested in manufacturing who enroll part-time as a student and spend the rest of those hours working. At the end of a few years, you'll have a degree and will have made some money on the side– not a bad deal.
Find out more information. Call the schools you're interested in applying to, and make an appointment with the admissions counselor if the school is in your immediate geographical area. They'll have the best information about what would fit your interests, and will be able to give anyone who is interested in eventually transferring to a four-year college great advice about what they'll need to do so.
Think about applying. Request your application from the school along with any other information that will help you learn as much about the program and the institution as possible– knowledge really is power! If you think you might be interested in or will need financial aid, find the website or phone number of the school's financial aid office. There is plenty of money available and waiting for students pursuing STEM-related degrees, and those counselors can help you find it! Ask questions, and make sure you're informed about the path you're taking.
Look at your school record, and make a time to take supplementary courses or entrance exams to make up for areas that you are weaker in than others. Schools realize that nobody is perfect, but if your admissions counselor recommends extra volunteer work or specialties in a language, you never know just what a little work could do to make your application more successful.
Questions? Comments about how this process has gone for you? Leave a comment in the section below or send us a tweet at any time!
—
photo credit: gadgetdude via photopin cc