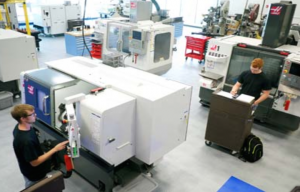 If you've followed our blog for a while, you know that we like to do educational spotlights on some of the occasionally hidden gems we have here in Nebraska: our outstanding community colleges and technical schools.
As application season rolls around, it's important to check out the list of partners in education that we have, all looking for top notch candidates to accept and continue on as the next generation of manufacturers.
And as the country looks more into "Smart Factories" as potentially the way of the future in manufacturing, programs like the Precision Machining and Automation Technology program at Southeast Community College become much, much more important. Like we mentioned earlier this week, smart factories may very well change what it means to be a manufacturer, and strong technological skills, especially in automation, will be valuable ones to have. Lucky for all of us Nebraskans, SCC ranks #2 in the nation in the number of Precision Production graduates! Their program in machinery (the name has changed from machine shop to Machine Tool Technology to the current title) has been in existence since 1941, and is one of the better places in the country to study machine technology.
SCC understands the needs of manufacturing industries, and tailors their program to make sure SCC graduates can fill those positions. So as American manufacturing resurges, their graduates are in high demand. In 2011, each of the thirty graduates received, on average, 11 job offers with an average starting salary of $17/hour. With eleven options, that means that chances are high you'll end up in a career you love–and more importantly, one that you chose.
So, what does the program cover? Two focus areas are available, Tool Maker and CNC and Automation. Students spend time both in the classroom and with hands-on machine specific training using state-of-the-art machines. Computer-aided drafting experience is garnered in their laboratories, where students use AutoCAD software and computer-aided manufacturing with Mastercam. The combination of academic subject background and specific technical training is important to producing well-rounded, experienced graduates.
How do you know if this would be a good fit for you? Here are a few of the traits that SCC details as what it means to be a successful machinist:
High spatial relations ability
Good mechanical ability
Is a detail-oriented person
Is both a sequential and analytical thinker (can organize ideas to determine what needs to be done, step by step, to complete the job correctly)
Can work well within the precise limits or standards of accuracy
Likes to see the physical results of one's labor
If classes like Manufacturing Processes, Blueprint Reading & Drawing, and Mold Making Lab make your heart skip a beat, you may have found your perfect profession.
To learn more, check out their website and maybe take a peek at the applications process. It is never too late to find your dream career! Questions? Leave us a comment below any time!
—
photo credit: Southeast Community College