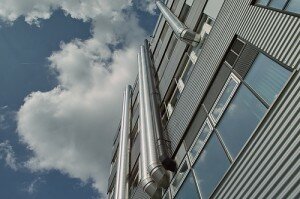 It's a big year for the manufacturing industry, and in particular, a big month for manufacturing in Nebraska. Normally October is just our favorite month for sweaters and Vala's Pumpkin Patch, but as we mentioned on the blog a few weeks ago, Governor Dave Heineman recently declared October as Nebraska Manufacturing Month, meant to celebrate and reaffirm Nebraska's commitment to the industry.
With a sector that's worth $12.5 billion to the national economy, it's a great time to brush up on our manufacturing knowledge and continue to spread the word about careers, programs, and shining stars that are all located right here in Nebraska.
Here's a quick update of what's been happening throughout the month (it's been an eventful one!) We're so lucky to have companies like we do as resources for future young manufacturers, so thanks again to Governor Heineman for helping to share that message with the public this October.
1. MFG Day 2014 is a Success: This year's Manufacturing Day was designed to showcase the best of the best manufacturers in our state, and open some factory doors to youth potentially interested in the industry. Students traded their books for robotic welders and laser cutting machines at Paxton & Vierling Steel in Carter Lake, as well as at Lozier Corp., Outlook Nebraska, and Phillips Manufacturing Co. amongst more. On the same day, Governor Dave Heineman visited manufacturing facilities throughout the state to speak about the dire need for skilled workers and youth entering manufacturing trades. The tours were a collaboration among manufacturers, Omaha Public Schools, the Greater Omaha Economic Development Partnership, and the Greater Omaha Chamber of Commerce. Students were able to see what really goes on behind the doors of a plant, and hopefully glean some inspiration for the future.
2. Penfield Animal Health is Acquired: Recently, the Nebraska company, Penfield Animal Health, was acquired by a Ramsey-based animal pharmaceutical company, Pharmgate LLC. The acquisition includes its Omaha office, manufacturing and warehouse facilities, as well as its manufacturing, laboratory, administrative, and sales workforce. "We are excited that this acquisition, along with the seasoned and expert workforce, will drive and streamline our development pipeline projects. The acquisition provides a strong base from which to continue our growth in the medicated feed additive and water soluble product sectors," said Pharmgate in a press release. It's a compliment to the outstanding Nebraska workforce that their skills were an incentive for Pharmgate's expansion, and we look forward to more industry in the area!
3. University of Nebraska-Lincoln Studies Milk: The milk industry may not sound like the place for innovation, but research has shown that investigating spore counts can significantly change the shelf life of milk. Through research sponsored by Midwest Dairy and the New York State Dairy Promotion Board and Dairy research institute and conducted at the University of Nebraska-Lincoln, as well as Cornell, we've learned that individual shipments of milk and individual farms have different shelf lives. What will researchers do with this information? We're not sure yet, but if the industry could be improved, we're all for it.
Anything we missed? Send us a tweet or leave us a comment in the section below!
—
photo credit: TraitorFrog via photopin cc