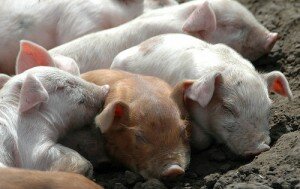 One of the miraculous parts about choosing a subset of manufacturing for a career is the immense potential for good. Manufacturing is a pretty broad umbrella for a wide array of activities and jobs, but there's no doubt that working in a manufacturing field can make a difference in the lives of millions of people.
Other areas of manufacturing make a just-as-valuable difference in the lives of animals, as evidenced in the recent development of a new vaccine by a Lincoln manufacturer this month.
The Porcine Epidemic Diarrhea Virus (PEDv) has killed millions of baby pigs across the country in the last two years, resulting in economic losses for pork farmers and painful, untimely deaths for baby animals. Animal health manufacturer Zoetis, based in Lincoln, told the Journal-Star that the U.S Department of Agriculture was able to grant them a conditional license to create a cure for the epidemic.
"As you may recall, the Zoetis team in Lincoln has a proud history in helping to develop vaccines against emerging infectious diseases," said Elinore White, senior director of corporate communications at Zoetis, in an interview with the Journal-Star. "The team played an important role in 2009 when USDA granted Zoetis a conditional license for the Flu-Sure pandemic vaccine against H1N1 influenza in pigs."
Entire litters of pigs can die from this virus, meaning that pork prices have hit an all-time high as mortality rates head the same direction. The vaccine will help healthy pregnant sows transmit antibodies to newborn piglets, and will be available to vets and pig farmers later this month. Hopefully, the vaccine will stem the percentage of loss created by the devastating pandemic that began last year in farms across the country.
Zoetis is one fantastic animal health manufacturing company located in Nebraska, but there are other people and companies working also working hard to support healthy and sustainable farming practices,  while stemming epidemics and ultimately improving lives. In 2011, Merck Animal Health expanded their production, staff, and facilities in an effort to ensure Nebraska as a location for cutting edge vaccine manufacturing.
With offices in more than fifty countries, Merck took the opportunity to expand production here in Nebraska at the Elkhorn Biotechnology Excellence Center in Elkhorn, Nebraska. Over fifty licensed vaccines are manufactured in Elkhorn and distributed to over fifty-two countries around the globe. The Elkhorn location's 250 employees develop and produce vaccines for companion animals (dogs, cats, and horses) and production animals (farmed fish, cattle, swine, and poultry).
With the opportunities available, the manufacturing advancements to save lives and promote healthy farming are vital in a state that has such a heavy reliance on agriculture, such as Nebraska. It's a whole world of manufacturing, science, and doing good.
Want to learn more? Send us a tweet or leave a comment in the section below anytime!
—
photo credit: Steve Sawyer via photopin cc