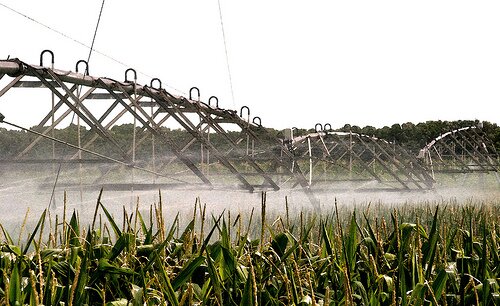 Late last week, the fantastic Cole Epley from the Omaha World-Herald covered a new initiative between Reinke Manufacturing and the Nebraska College of Technical Agriculture to incentivize students to work towards a degree in irrigation technology.
Reinke's hope is that more qualified irrigation technicians will graduate and fill the dearth of skilled workers that's beginning to affect all aspects of their business.
"To speed things up, Reinke is matching $1,000 scholarship offers made by its local dealerships to new students. After graduation, scholarship recipients must contract to work for three years at a Reinke dealership," Epley writes. A scholarship and a job guarantee post graduation? Sounds like a pretty good deal.
So why the need for this incentive? Reinke says that as Nebraska irrigation manufacturers continue to produce increasingly high-tech products, the number of technicians qualified for this enjoyable but challenging job continues to decrease. Director of sales for Reinke, Ken Goodall, says that "The single-most limiting factor for all center-pivot manufacturers is to get certified workers to get out there and work in the field."
This isn't the first partnership of sorts that's happened here in Nebraska. In 2003, Northeast Community College in Norfolk and Omaha's Valmont Industries Inc. was established, but unfortunately, that program no longer exists. The school still offers some training, but not a degree in irrigation tech. And other than the new collaboration with the Nebraska College of Technical agriculture, where can interested students go to learn more about the field and jobs available?
In terms of irrigation-related studies, the University of Nebraska-Lincoln has options in the Biological Systems Engineering Department with tracks that will give students the necessary technology-related skills to prepare for a career in the irrigation industry. Whether you choose biological systems engineering or agricultural engineering, there are some incredible classes in everything from Instrumentation and Controls to Kinetics and Dynamics of Machinery. Students learn important skills to help hone the problem-solving critical processes that are important when working with center-pivot systems.
And for a first hand look at what it's like to work for an irrigation service or company, you can contact one for an informational interview, or just to learn about their company culture. Thanks to our thriving agriculture-centric economy here in Nebraska, there is certainly no shortage of companies hoping to attract skilled workers. MSIR Mid-States Irrigation and Repair or your local Reinke dealer are great places to start.
Finally, read up on our past blog posts about irrigation manufacturing companies and what's happening in the industry here in Nebraska to make sure you have all the facts before heading out to apply for a program.
Questions? Want to learn more about this exciting field of irrigation and irrigation-related studies? Feel free to contact us anytime or leave a comment in the section below, and we'd love to help.
—
photo credit: Matthew Traucht via photopin cc