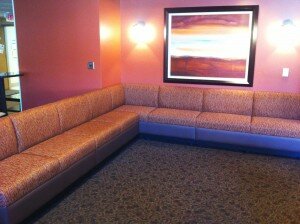 On January 18, General Manufacturing Co. owner Mike Fischer watched his Carter Lake business go up in flames—literally. Though no one was hurt or injured, the devastating fire created an estimated $1 million dollars in damage for the manufacturer. All inventory and materials were destroyed along with the physical facility.
"I never, ever thought the entire place would burn down. I never thought that would be possible," Fischer said to the World-Herald as he watched smoke rise from the rubble of the family business. It's yet to be determined what started the blaze.
If there's one thing you can say about Nebraskans, though, it's that we are hardworking and resilient. The General Manufacturing Co. is a perfect example of how to rebuild and recover, something essential to any successful business.
In early April, the company was back on its feet and producing restaurant furniture in a new location on North 9th street. General Manufacturing Co. employs 12-15 workers to produce custom chairs and tables for clients such as Runza, Arby's, and PepperJax Grill. This includes everything from bar stools to booths to banquet tables and table tops and bases: Chances are good most Nebraskans have taken a seat on furniture from General Manufacturing Co.
The demolished Carter Lake facility housed every step of the production process. From cutting, sewing, welding, and more, the skilled workers assembled each stool and booth by hand.
The new facility is a bit smaller than what the company had before, but Fischer hopes to resume the production process regardless so as to continue serving his customers. He told the World-Herald that 90% of his customers have been understanding and will continue to do business with him regardless of the interruption. He has also been working with Iowa and the Carter Lake area on possible tax incentives and ways to keep his business as close to Carter Lake as possible.
The company has manufactured furniture since 1962 and specializes in custom projects. From design to installation, they pride themselves on customer service and the best possible warranties to stand behind their products.
Though it's always a tragedy when events like this happen to any business, especially a small manufacturer, it's inspiring to see a company determined to succeed and a community helping support them throughout the crisis. It's just another great reason to keep any business in Nebraska, and we are proud to support all manufacturers in the good times and bad.