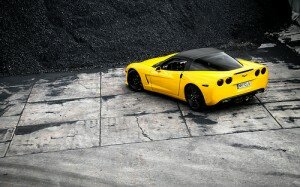 The University of Nebraska-Lincoln has been a hot topic in the news these days, as well as here on our blog. A few weeks ago, we shared the exciting news that UNL researchers will be participating in the new federal manufacturing hub located in Chicago along with other engineers and institutions from around the country.
There's no doubt that UNL faculty and researchers are absolutely outstanding in their field, and we're lucky to have such a talented group in Nebraska. For us here at NeMAC, however, it's just as (if not more) exciting to hear about graduates and students doing incredible things in engineering.
Most recently, the student making headlines is Pius X high school and University of Nebraska-Lincoln Engineering College graduate Shawn Meagher. The Journal Star recognized Meagher this week for being the brains behind a recent dramatic restructuring of the Corvette Stingray.
Meagher attended St. Joseph Catholic School and Pius X before graduating from the University of Nebraska-Lincoln Engineering College. Next, Meagher completed the dual master's program at UNL in engineering mechanics and Universite de Rouen in France for materials engineering. After finishing both graduate degrees in 2010, Meagher headed to join the team at General Motors Proving Grounds in Michigan.
Meagher was assigned to the seat performance team to improve the Chevrolet Corvette Stingray's seats– previously so uncomfortable that riders in the vehicle for long road trips ended up at the chiropractor. As Roy Carroll of Autoweek Magazine explains, the seats have long been a 'sore spot' for Corvette owners.
"I drew upon experiences in high performance cars when I'd gone to racing schools, sitting in racing seats," Meagher said. 'They are there to support you. What I was looking for was inspiration, from a mechanic's background, how your body is moving, understanding what I need to support it and at the same time allow for freedom of motion."
After working on other seat refreshments for the Camaro Z28 and other Cadillacs, Meagher is now a performance engineer at the GM Vehicle Dynamics Center. And best of all, Meagher's new Corvette Stingray is selling at a more rapid speed in years, doing so well that Chevrolet has actually raised the base price of the vehicle.
Add that to the list of UNL graduates changing the world.
—
photo credit: Frankenspotter Photography via photopin cc