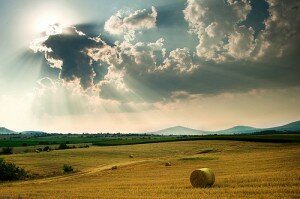 Do you want the good news or the bad news first? The bad news is that we're all aging and that time spent in the sun can age your skin by up to ten years, as well as cause melanoma, benign tumors, and wrinkles. UV rays damage the skin's elastin fibers, which leads to saggier, more wrinkly skin for both males and females. If you don't regularly wear sunscreen, it's time to think again.
The good news is that a UNMC researcher and Nebraska-based startup are working to create a sunscreen that will be more effective against aging and harmful UV rays. Entrepreneur Gary Madsen and researcher Vinod Labhasetwar were inspired to found their company, ProTransit Nanotherapy, after Labhasetwar discovered a revolutionary technology while researching in Omaha. His new nanoparticles enable a wide variety of enzymes to be carried into the body–while applying sunscreen, perhaps?
LiveWell Nebraska reports that antioxidants are a way to guard against aging skin, and protect the body's largest organ from all sorts of cancerous possibilities (literally). So why aren't we already using this topical remedy to slow down aging and protect our health? Until ProTransit Nanotherapy, the struggle arose in the journey. The antioxidants worked, but couldn't be delivered to the body on a level that was enough to make a difference.
Madsen, a Creighton Medical School graduate, is currently in the process of accumulating enough funding to launch this product to the pharmacy shelves. Currently UNMC is allowing the company to use their nano-technology manufacturing space and helping to fund the $175,000 in grants that Madsen has already accumulated. The catch is that he still needs a total of $1.5 million to fund the project.
Madsen pitched his case at UNMC's Demo Day to investors, doctors, researchers, and LiveWell Nebraska, asking for their support with his background in product development as evidence.
"To me, product development is a march, a march toward the product launch," he says. "You can throw some hype in there, that's good, too, but hype doesn't get you very far.
Whether the antioxidants are included in anti-aging creams, sunscreens, or lotions, there's a good chance that this Nebraskan may have the key to the fountain of youth!
—
photo credit: Nick-K (Nikos Koutoulas) via photopin cc