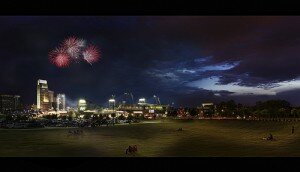 Did you know that on March 1st, 1867, Nebraska became the 37th state?
That's right, we're celebrating the birthday of our beloved state this month! In February, the Journal Star came to the birthday party.
They forgot cake with frosting, but chimed in with 37 items gleaned from the Nebraska State Historical Society that help detail a few of the icons that truly helped Nebraska become
what it is today.
Here are a few of our favorites. We weren't surprised to see quite a few on their list related to manufacturing:
Pull up a chair, and enjoy a Swanson's Original T.V. Dinner! Originally made in Omaha by C.A Swanson and Sons, these compartmentalized meals revolutionized the idea of an easy-to-make dinner. The very first one included turkey, cornbread stuffing, frozen peas, and sweet potatoes. By 1955, the company was selling 25 million dollars worth of the meals.
Thanks to George F. Kregel, the Kregel Windmill utilized the windy plains to make life on the prairie easier for the hard-working pioneers. The Nebraska City manufacturing company helped farmers install and repair a water-pumping windmill. The Kregel Windmill Factory Museum is still intact and available for visits as an important part of our country's agricultural history.
The Bison Scalpula hoe was the predecessor to plows towed by oxen and the giant John Deere farm equipment used in Nebraska today. Only, the Scalpula hoe was used by the Great Plains Nebraskans as early as 1000 A.D. Used primarily for maize, beans, and squash, the shoulder blade hoe was used to increase food production and transition into a less nomadic community, an important development to the future of the Plains states.
Vise-Grips: have you been in your dad's garage lately? We can almost guarantee there's a vise-grip in there, the useful tool that allows craftsmen to hold onto nuts and bolts without using their hands. This metal tool was patented in 1924, and was the subject of wild popularity in the town of DeWitt. It is no longer made in DeWitt after the company closed its doors in 2008, but is still sold at almost every major hardware store.
What better way to commemorate the birthday of our great state than by going back and looking through the great innovations that have propelled us to where we are today? From vise-grips to windmills, our state has been an incredible source of insights, innovation, and yes, manufacturing throughout all of its years as the 37th state.
Did we miss a favorite of yours from the Journal Star's list? Connect with us on Twitter and let us know!
—
photo credit: Chris Smith/Out of Chicago via photopin cc