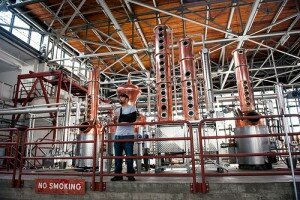 Microdistillers don't head into the business of manufacturing and selling spirits because it's easy.
Kentucky distiller Stephen Thompson told Forbes, "When I tell people it will likely take at least two years to even begin processing a first batch and make something that is commercially viable, and anywhere from $350,000 to a million dollars to get it off the ground, you see some disbelief."
Regardless, the microdistilling craze and craft distilleries have begun to pop up throughout Nebraska in the last several years, owned and operated by those who have a true passion for it. Reece Sukovaty, owner of Knotted Wood Distillery in Southeastern Nebraska, wouldn't even tell the Journal-Star how much he had invested in the business, because in his words, "Dreams are priceless."
So, what is a microdistillery, and how do you become one? There isn't an across-the-board production cap, according to Time Magazine, but microdistilleries or craft distilleries are usually those that make under 100,000 gallons of spirits in a year. While that may seem like a lot, Bacardi can produce more than 100,000 gallons in a day.
Legislation in 2003 adjusted the cap of the distillery license to account for these differences in production. Before, there was just one license which allowed businesses to produce as much as they wanted to for $50,800, but today, different grades of licenses can make entering the market more affordable. Hence, microdistilleries have boomed throughout the country, despite other financial obstacles.
Most recently, the Scottsbluff Star-Herald reports that the Panhandle of Nebraska will likely soon be home to a new distillery owned and operated by Phillip Mitchell: "We will try to use local ingredients as much as we can…it's a great market and a great location. Sugar beets and corn are a value-added crop for the area, and we can help create something sellable out of it." Mitchell's distillery won't be a tasting and tourism haven like many craft outfits, but instead will focus on manufacturing and production to then sell the products for retail. Mitchell's proposal is in the works, and when completed, will join the ranks of Knotted Wood Distillery and others.
In La Vista, Patriarch Distillers, Cut Spike Distillery (a subset of Lucky Bucket Brewing Company), and the Nebraska Brewing Company are all within a few square miles over in Sarpy County. Jeff Hadden, who distills, processes, and warehouses bourbon whiskey and vodka at Patriarch Distillers, says that he isn't trying to replace the big alcohol makers like Bacardi, but is more interested in showing how the liquor is made, and that it can be done in Nebraska. "I think this is going to be kind of a destination, an experience," he notes.
Meanwhile, over in the Panhandle, Mitchell hopes to add up to six employees for manufacturing, production, and distribution of his product, which will be sold at liquor stores. "I think this will be a good fit here in the area," he says. "Hopefully we can get the state and the rest of the world to recognize the Panhandle, which we are very proud to be a part of."
We'll be eager to see the ways in which the microdistillery boom will transform the Nebraska manufacturing and entrepreneurial landscapes, and we admire each of these manufacturers with a true heart for their business. While manufacturing certainly pays well and can provide a steady job, there's something to be said for businesses that aren't easy to start, and aren't easy to run, but exist because the owner and operator truly loves it.
—