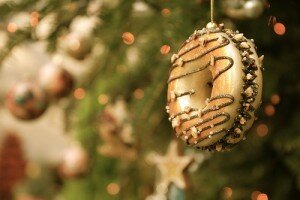 The holiday season, which we're approaching rapidly, is hands-down the most massive season for commerce and production in the United States. Not only do manufacturers need to ramp up to produce for gift-giving and seasonal shoppers, but also for all of the celebrations that tend to accompany Thanksgiving, Christmas, and Hanukkah, and other seasonal holidays.
We did some digging to find out where exactly some of these products that we take for granted come from. Who manufactures Christmas and Hanukkah lights? Where do the turkeys for the Thanksgiving table come from (because yes, they are "manufactured")? How do we manufacture plastic Christmas trees?
Some of the answers we found were interesting, some were disappointing, and all renewed our constant desire to reinvigorate American manufacturing. This holiday season, remember that manufacturers make it possible for you to purchase all that you do at the price you are given. It's the hard work of machinists, engineers, designers, and other skilled workers that make the magic happen.
Christmas Lights: The answer to this question was actually a little surprising and disappointing. According to wholesale retailer ChristmasDesigners.com, there simply are no manufacturers that still make Christmas lights in the United States—it's one of the few industries where all product is made overseas.
While the first mass-produced light sets were made in the U.S. in the 1920s, establishing America as the world's leading manufacturer of Christmas decorations, production moved to China and other Asian countries in the '70s, and hasn't moved back yet. USALoveList confirms that there are no American-manufactured lights, and even American-made decorations with LED lights will have LEDs made overseas. It's food for thought: How can we bring this product back to American manufacturing?
Artificial Christmas Trees: We found out that manufacturing artificial Christmas trees is actually a fairly sustainable process. Chemical properties associated with the PVC used to make artificial, provides about a 20-year life span, and makes them completely recyclable. Discovery Science also has created an awesome clip on what it looks like to manufacture an artificial tree, starting with the steel skeleton and working out to the "fir" branches. Hint: there's welding, it's built in sections, there's polyester powder, and more. Watch each step of the process here!
Turkeys: Around the country next Thursday, Americans will dig into their Thanksgiving turkey (or turkeys)! With that many turkeys, industrial processing is usually a must. If you can buy a turkey that you know has been locally farmed, that's generally a good option. We'd recommend giving the Nebraska Poultry Growers Nonstock Cooperative a call—they're a local poultry processing facility near West Point and Oakland that processes chickens, broilers, roosters, and turkeys.
What else do you use to celebrate your holidays? Want to know where it comes from? Leave a comment in the section below or send us a tweet, and we'll get the scoop for you!
—
photo credit: Yummy Christmas! via photopin (license)