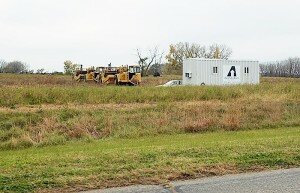 Oh boy, this is one of the headlines that makes our day the moment—no, the second we read it.
If you haven't heard of OCT Pipe, a corporation owned by O&G Partners, you're about to hear some more, especially if you live in Norfolk, Nebraska. Yesterday, during a 45-minute press conference at the Norfolk Area Chamber of Commerce, OCT Pipe CEO Charley Havens announced that the company plans to build at least a one million-square-foot pipe mill manufacturing plant in northeast Norfolk.
As you can imagine, building this plant means jobs (at least 180 new jobs), investment (an investment of at least $125 million), and sourcing materials from local manufacturers (350,000 tons of steel per year purchased from Nucor in Norfolk). In other words, it couldn't be a happier day for the Norfolk area.
Here's the scoop on OCT Pipe: they're based in Rockwall, Texas, and the name stands for "Oil Country Tubing," according to the Norfolk Daily News. The company produces and sells drilling and production pipe to major oil and gas production companies, including North Dakota, South Dakota, Wyoming, and Colorado—making Nebraska an ideal location for ease of transportation. As we just mentioned, the company will turn Nucor steel into threaded oil field pipe, and ship not just in America, but across the world.
So, why Norfolk? CEO Charlie Havens loves the people, the work ethic, the economic climate, and Nucor Steel, one of the reasons Norfolk beat out other proposed locations like Seward, NE: "I'm glad to be here," Havens said in the press conference. "I think we can make the community grow and help you guys."
The citizens of Norfolk are equally excited to bring the company, and the new jobs to the area: "These are exactly the kind of good-paying jobs this area has been working to attract," Norfolk Mayor Sue Fuchtman said in a press release. "We have the schools, work ethic, and business climate that is favorable to their company and to their employees. They'll be a great addition to our manufacturing community."
These well-paying jobs Fuchtman describes will undoubtedly be a boon to Norfolkians. The Lincoln Journal-Star reports that the company will create at least 50 jobs with salaries upward of $70,000, and plans to have 180 jobs when the facility is operating at full capacity. Nebraska's tax incentives were another draw to the state. This level of job creation qualifies them for Tier Six of Nebraska Advantage incentives, along with tax-increment financing to offset infrastructure costs.
This news falls on the heels of Tejas Tubular's announcement that their new factory in Norfolk, which would have produced 200 jobs, was being postponed. Although the company still plans on building in Norfolk, the uncertainty of the oil market caused some reasonable hesitation.
This announcement means that residents of Norfolk can celebrate once more! The factory will open in 2017, and we're looking forward to it.
—
Photo credit: Norfolk Daily News/Darin Epperly