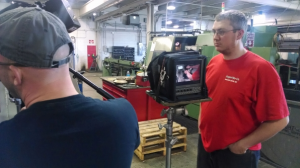 2015 is shaping up to be a pretty good year for Broken Bow, Nebraska manufacturer Sargent Pipe Company.
This week, the company was one of two Manufacturers of the Year named by the Nebraska Chamber of Commerce at the annual Manufacturers and Distribution Executive Summit. Lozier Corp. of Omaha, a store fixture and shelving systems manufacturer, won the award for large manufacturers, and Sargent Pipe took home the award for small manufacturers. And after being in business for approximately 80 years, we'd certainly say that they deserve it.
The company, originally called Sargent Irrigation Company, was founded in 1937. According to company legend, they added a division called Sargent Pipe Company in 1975 due to an insufficient supply of turbine pumps. Their goal? To engineer a "highly efficient, dependable turbine pump. Engineering and technical people were hired to begin development of the Sargent turbine pump. By the spring of 1977, the completed Sargent pump was being manufactured and shipped from the Sargent Pipe Plant."
Today, the company is still family-owned by relatives of the one original founders, Larry Whitesel.
Other aspects of the company remain similar today as well, including their commitment to customer service and reliable products. They primarily manufacture turbine pumps, but have expanded into other areas of manufacturing, as well: From drilling rigs to pump hoists and drilling support equipment, Sargent incorporates custom CNC machine work and custom fabrication work into a wide variety of products.
The Nebraska Chamber of Commerce isn't the only entity who has noticed Sargent Pipe's excellence: The company will also be featured in a documentary television series that will air on the Science Channel (owned by Discovery Communications) on September 24th at 9 p.m (ET). Makers, manufacturers, and people from all over the country pull up their chairs weekly to watch the show, "How It's Made," one of the most popular documentary shows in America that showcases exactly what it sounds like: how things are made.
Last summer, the network filmed an episode of "How It's Made" in the Sargent factory, showcasing how Sargent manufactures and installs the water pumps that supply citizens around the world with fresh water. "We are excited to work with the Discovery channel and educate people about where their water comes from and how it is pumped from the ground," says Sargent owner Brian Whitesel. "It's an important part of daily life, and Sargent Irrigation Company is proud to be one of the largest privately owned water well drilling companies in the world."
The episode took two days to film, plant manager Luke Wassom told the Neligh News. "This was a great experience for us and for Sargent Pipe Company. It's great for the whole world to see how pumps are manufactured. We're excited to have this program seen around the world," Wassom said. And around the world, it certainly will be: The episode will be shown in over 200 countries.
Pull up your chair to the television on September 24 to support a local Nebraska manufacturer in their television debut! Congratulations to Sargent Pipe on their extraordinary success. Learn more about the company or take a virtual tour here.
—
Photo credit: Sargent Pipe Company via Neligh News