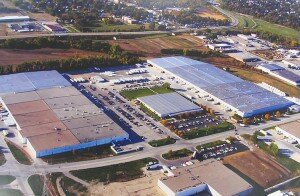 Labor Day falls on the first Monday in September and is a day the U.S. honors the labor movement. Towards the latter half of the 1890s, Nebraska was one of the first nine states to deem Labor Day a holiday, leading the way for Congress to pass an act that would make it a legal holiday.
On Labor Day each year, we celebrate the contributions that workers have made to the social and economic foundations of our country. In manufacturing, where the labor of thousands of workers fuels a major sector of Nebraska's economy, Labor Day is certainly a special celebration.
This year, several Nebraska manufacturers kicked off the holiday early with a visit from U.S. Labor Secretary Thomas Perez. Over the next two weeks, Perez will be traveling the country to meet with employers, workers, and state and local officials around the country. The White House reports that Perez aims to advocate five main initiatives:
A fair day's pay for a fair day's work.
Providing a path to get ahead.
A job with family values.
A chance to succeed, no matter where you start.
A voice in the workplace.
The tour is titled "Building Shared Prosperity for a Stronger America," and you can read more about the Department of Labor's Goals here. For Perez, Nebraska is an emblem of many of the initiative's values, particularly regarding the minimum wage ballot that was passed in our state last November. The measure, widely supported by voters, raised the state minimum wage to $8/hour this year—what Perez reportedly called an example of "Cornhusker common sense."
According to the Omaha World-Herald, Perez kicked off his tour in Omaha by touring the plant and speaking to an assembled group at Lozier Manufacturing Corporation. Based in Omaha, the company provides starting wages as high as $14.54 an hour, as well as clear pathways to move forward and advance within the company.
A leading manufacturer of store fixtures, Lozier was founded in 1956 with just 25 employees and manufacturing facilities of 20,000 square feet. Today, they have over 5.4 million square feet of manufacturing and distribution space and employ over 2,400 people across the country. "A lot of companies say the customer comes first. At Lozier, it's truly the way we do business. Our sales team is located strategically across the country to maximize their availability to you. They're backed by our talented account services team, along with product development and engineering resources, an in-house design team, and our capable installation department," the company says.
Their success is founded on paying manufacturing and distribution employees a fair wage, as well as giving workers a say in how they can affect the future of the company. In other words, they're a perfect example of best practices in manufacturing employment.
It's an honor to have been chosen as the first city on Perez's U.S. tour. You can see more of his travels, including photos from his Omaha visit, on Twitter.
—
Photo credit: Lozier