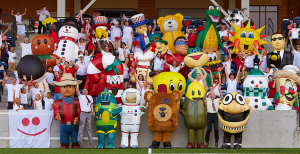 This post is part of an ongoing series of manufacturer profiles. The blogs will cover some of the many names in manufacturing in the state of Nebraska. Check back later for more posts in the series. To see previous posts in the series, click here.
Most of the country associates Nebraskan manufacturing with agriculture, technology, equipment, and even food: After all, as a Great Plains state, we're well-suited and perfectly located to be successful in all of those sectors.
However, an Omaha manufacturer is revolutionizing the market in the quality inflatable products industry: Meet Signs & Shapes International, Inc., a family-owned company located near Creighton University renowned for their inflatable products sold to customers in 73 countries.
Their business is a niche one, for sure: walkaround mascots and parade floats are needed for very specific products and industries. Their customers include everyone from the world's leading entertainment and sport industries to middle schools and volunteer fire departments looking for a high quality-mascot.
The company's owner, Lee Bowen, left his career in cattle and agricultural finance to start a passion project out of his family basement in 1989, with high hopes that he could involve his family in a fun, dynamic business. His wife contributed to operations, and the kids were set on task to clean the air-inflated internally lit signs that they sold: "He sometimes found it convenient to zip his children inside the signs, with a roll of paper towels and a bottle of isopropyl alcohol. This sign-cleaning/self-contained babysitting arrangement made the Bowens the envy of their suburban neighbors, who worked at normal jobs with no such perks."
Today, the manufacturing company is run by Lee Bowen and his son Scott, and has increased their staff from five employees to twenty-one. With assistance from the Nebraska Manufacturing Extension Partnership, the company has increased their profits from sales under $50,000/year to over one million per year.
The partnership helped the company transition into working with a technology-based production system and CNC cutting equipment, both advances that can create a difficult learning curve for a team unaccustomed to working with advanced technology. So, with help from NMEP, Signs & Shapes re-engineered their operations to ensure that every employee is computer-literate, and continuously works to train them through on-the-job experience and even off-site computer classes.
With a constant thumb on the pulse of innovation, the company continues to utilize technology to grow (and is even working on ways to expand with the new 3D prototyping technology).
So, the next time you see a mascot at your home football game or walking in a community parade, you'll have a good idea of the type of product Signs & Shapes manufactures. Colleges, professional sports, theatre departments, and local festivals all use the high-quality inflatable mascots, but the company also uses their manufactured wares and factory for the public good. For example, they work with a sister company Ph.D. level research group named the Prevention Group, to provide employment to autistic employees (83 in total thus far). They also provide costumes for non-profit groups who need a memorable, unique tool for public education.
If you want to learn more about Signs & Shapes International, Inc. and how you can work with them, you can contact them here. Questions? Comments? Leave them in the section below, anytime!
—
Photo credit: Signs & Shapes