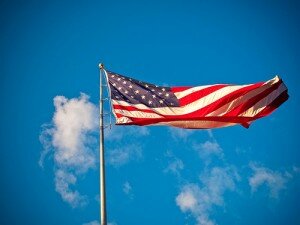 This post is part of an ongoing series of manufacturer profiles. The blogs will cover some of the many names in manufacturing in the state of Nebraska. Check back later for more posts in the series. To see previous posts in the series, click here.
Today's manufacturer located in Nebraska may be one of the most patriotic of them all. Meet MSA Brand Products, located in Fairbury, Nebraska.
MSA Brand Products manufactures a massive variety of products that are generally used for promotional purposes–think flags, T-shirts, hats, bags, and more. However, one of their most notable products is the classic American flag. Like the rest of their product line, MSA Brand Products manufactures their flags here in the U.S.A, something that is surprisingly not a given fact.
Although there are many American flag manufacturers, $3.6 million worth of flags imported into the United States last year came from China. According to Chris Binner, the vice president of marketing and sales for flagmaker Valley Forge, foreign-made flags are beginning to present a "serious threat" to the industry.
The presence of foreign manufacturers in the American flag industry is just another reason that Fred Arnold, owner of MSA Brand Products, began making the flags in 2014. "It's a big deal symbolically and economically. We started with one person sewing part time and now we've got about nine employees," Arnold told the World-Herald. "For a town this size, that's a lot." For those Nebraskans who want to show their American pride by proudly displaying an American-made flag, MSA Brand Products uses all American-made materials to craft the flag. From utilizing a high-quality nylon suitable for indoor and outdoor use, to a beautifully embroidered star field and brass grommets, MSA Brand workers ensure that each and every flag is a patriotic work of art.
According to the World-Herald, the company also recently submitted an application to the Flag Manufacturers Association of America, an organization that certifies flags made in the U.S. of domestic materials with all manufacturing in U.S. facilities with American labor. "I think there is a trend in general for people to put some value on [U.S. made flags], and pay a little more since it costs more to make products 100% in the U.S.," said organization Chairman Reggie VandenBosch.
In addition to their hand-sewn flags, the company offers a wide product line that includes flags for your city, school, organization, or event, custom-embroidered dress shirts, screenprinted t-shirts, and even custom-made koozies for a wedding reception or family reunion. Every single product is hand-sewn in their Fairbury facility, and any screenprinted apparel is done manually for quality purposes. Their in-house graphic artists can help develop designs for you free of charge if you're not sure exactly what you'd like printed. In other words, the company has personality, and truly wants to use their products to make something special and personalized specifically to you.
Check out MSA Brand Products to help support manufacturing not only done in America, but right here in the small towns of Nebraska!
—