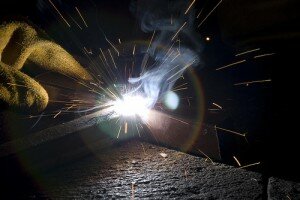 "This program seems to draw people who are looking for self expression through a physical task. And it is very physical," says Sharon Boynton, instructor of the Sculptural Welding Program at MCC.
"It's a multi-sensory environment that brings your entire being into focus." Boynton is one of several "Women Who Weld," a group of women who work in the Sculptural Welding Program and are taught by Boynton and a former jewelry designer named Peggy Ritschel. Together, they have developed a community of welders who love expressing their creativity through metal.
Ritschel, Today's Omaha Woman notes, originally enrolled in an introductory welding class at MCC's south campus to learn oxyacetylene torch welding, and later facilitated a weekend workshop to demonstrate her new art form. MCC invited her to teach a class as an adjunct instructor, and thus the Sculptural Welding Program was born. Former student and now instructor Sharon Boynton says that "Peggy's vision to teach welding to the artist community as a woman was groundbreaking." After a metal sculpture art show showcasing the work of women who met during sculptural welding classes at MCC, the name "Women Who Weld" was born.
The welding industry isn't just recruiting women as artists, though. Lisa Moran, community college welding instructor, says that "A lot of people think that this trade will be easy to learn, then easy to get a job. The good news is this: The best part about welding is that anyone, from any background, can learn to weld."
In 2012, the Department of Labor reported that there were 357,400 welders in the U.S., and only 2% of those were women. However, the American Welding Society thinks that women can help fill the shortage of skilled workers in the welding industry, and their efforts have shown that there has been an increase in the number of female welders in the U.S: "Since there's a shortage of skilled workers and the pay is good, welding is a marvelous opportunity for young women," said Nancy Cole, former president of the American Welding Society.
At MCC, for example, Ritschel believes that a draw for women to join the program is that the classes are taught by women: "It makes women feel more comfortable and gives them permission to jump in and do some welding. This is an empowering medium." There's also an aspect of variety in the welding career that appeals to many women, some of whom have walked away from other careers to enter the field.
In New York, Steamfitters Local 638 employs more than 8,000 members, including some amazing women, who are highly skilled welders that build and maintain buildings' heating, cooling, and fire suppression systems. Workers are also expected to solder and braze in addition to their welding jobs. "Among our members we have some amazing women in the industry, some of whom are third- or fourth-generation of 'fitter' in their family," says spokesman Tom Butler.
Whether for artistic or structural purposes, there are more "women who weld" than ever before. We look forward to watching that number grow along with the number of jobs in the industry! Questions about how to become a welder or want to learn more about women who weld? Leave a comment in the section below any time!
—