This post is part of an ongoing series of manufacturer profiles. The blogs will cover some of the many names in manufacturing in the state of Nebraska. Check back later for more posts in the series. To see previous posts in the series, click here.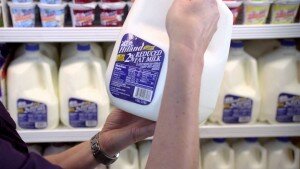 As they walked along the dairy aisle on their evening trip to the grocery store on an evening in 2013, Nebraska citizens far and wide were shocked and alarmed: The familiar blue and white Roberts Dairy label was gone from the grocery store.
As it turns out, the change in label was a simple result of a name change from Roberts Dairy to their upper-division brand name: "The only thing changing is the label on the package," Gary Aggus, president and general manager of Hiland Dairy, said in a statement. "Under the Hiland brand, Roberts is still the same local, farmer-owned dairy … and will continue to produce milk in Omaha and Kansas City."
Staying true to their word, Hiland Dairy has been serving the Midwest for more than 75 years, with Roberts Dairy as a division since 1981. They're known for pure, fresh-from-the-farm wholesome milk and dairy products with no added growth hormones. According to the Omaha World-Herald, the Roberts Dairy name dates to 1906 when Lincoln-area farmer J.R. Roberts started home delivery of milk from his herd of 60 cows.
Several years later, he expanded into a plant in downtown Lincoln. Eventually moving into a larger Lincoln plant, it was the only diary at the time that sold pasteurized milk to the area. Between 1918 and 1929, the company continued to open branches in cities across the Midwest, including Sioux City, Iowa, and Omaha. Today, the company is still headquartered in Nebraska with production plants and distribution centers in Nebraska, Iowa, Kansas, and Missouri. In other words, Roberts (now Hiland) is Nebraska's largest dairy producer.
They're a manufacturer that touches people's hearts: Children have fond memories of drinking a glass of milk with their peanut-butter and jelly, and it was a shock when the heritage brand changed their name. According to Hiland, 90% of shoppers surveyed in Des Moines, Kansas City, and Omaha said that they would buy Hiland Dairy milk if it has the same quality and freshness as Roberts milk, and if it's produced by local farmers. Today, the product is the same, and the manufacturer still continues to create the same amazing dairy product sourced from local farmers.
The Omaha plant (2901 Cuming St.) employs 229 of Roberts' 700 workers to process 120,000 gallons of milk each day (one full tanker of milk every hour). They also bottle orange juice, fruit drinks, and sour cream and dip as well as 16oz to-go drinks.
Despite the name change, it's awesome to have such heritage brands and companies still producing in Omaha cities! When you're at the store, pick up a gallon of Hiland milk to take home with you to enjoy the taste of Nebraska.
—
Photo credit: Hiland Dairy via YouTube