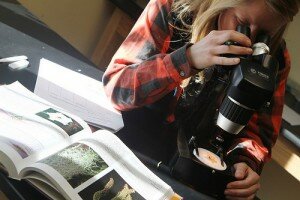 This post is part of an ongoing series of manufacturer profiles. The blogs will cover some of the many names in manufacturing in the state of Nebraska. Check back later for more posts in the series. To see previous posts in the series, click here.
In honor of the Nebraska Science Festival approaching its last weekend, today we'll be featuring a science manufacturer from Nebraska: Nebraska Scientific, located on Leavenworth Street in Omaha.
If you work in the medical industry, have ever taken a science or anatomy class, or studied science in just about any university or school across America, you've most likely encountered a product from Nebraska Scientific.
The company was actually founded near Boyd, Wisconsin in 1960, and moved its headquarters to Omaha shortly thereafter. The intention was not always to have a retail division, but rather, the company originated as a processor of some of the products they still sell today for use in biology, life science, and anatomy classrooms. The retail division (named Nebraska Scientific) was formed in 1968 in response to popular demand from classrooms to be able to buy directly from the processor.
Since, Nebraska Scientific has continued to expand beyond their original offerings to provide products to students that aren't studying exclusively anatomy. The company produces dissection DVD's and videos, and supplies a full range of over 2,000 educational science products for use in biology, anatomy, life science, and environmental science classrooms in all 50 states. They don't manufacture all of these items themselves, but do process and preserve the specimens they sell. And most importantly, they provide the ability for science classrooms around the country to study dissection: They're training the next generations of surgeons, doctors, and medical manufacturers.
When we says specimens, what do we mean? Well, their line of "preserved specimens" includes fetal pigs, sheep brains, cow eyes, sheep eyes, hearts, kidneys, rats, cats, preserved grassfrogs, and more. They also sell microscopes, balances & scales, laboratory cabinets and tables, torsos, anatomical models, anatomy charts, and skeletons– in other words, everything you need to successfully operate a biology classroom.
Take fetal pigs, for example. It sounds a little gross, but Nebraska Scientific is the world's largest processor of fetal pigs, processing thousands each year. If you're interested, you can read the full rundown here, but fetal pigs are essentially byproducts that would otherwise be discarded, but are being turned into useful tools of education instead. Dissection is important to the teaching of medicine so that surgeons and doctors can better understand humans, so these types of products for experimentation are just the first step.
They're a fascinating company doing some very important work. Those who are interested in learning more about how science education is impacted by the processors and manufacturers of the world can learn more on their website!
—
photo credit: Science_1633 via photopin (license)