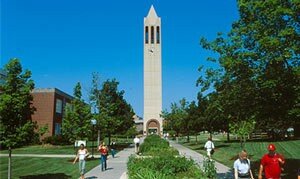 Our website has always had a list of our partners in education, otherwise known as educational institutions that provide curriculum to support a career in manufacturing. These institutions include community colleges, universities, and middle and high school career technical education programs. In other words, for a student interested in learning manufacturing skills, there's no shortage of options to choose from in Nebraska!
As we mentioned last time we highlighted this awesome school on the blog, the University of Nebraska at Omaha certainly doesn't struggle with name recognition: In fact, they're probably one of the most well-known schools in Nebraska. This is partly due to their massive size, but also the quality and caliber of their programs.
However, although people generally know who and where they are, they don't know about everything happening inside those brick walls, and let us tell you, there's some exceptional stuff. Best of all, there's options for all sorts of learners and learning styles, as well as flexibility with time spent taking courses. Particularly for STEM careers or those looking to advance their education on a nontraditional timeline, this is an important opportunity to understand.
So without further ado, here are some of the ways that students at the University of Nebraska-Omaha can take their education in exciting directions. UNO grads graduate ready for careers, graduate school, and successful and fulfilling lives spent pursuing their dream.
Military: UNO works hard to be a military-friendly school, and a good place to apply for recent vets. They actually employ a full time veteran's affairs employee, who is available as a member of the VA's Vet Success on Campus Program. She works with all aspects of veteran's affairs, like advising on and processing veterans' benefits, acting as a faculty advisor to the Veteran Student Organization, and ensuring smooth administration of benefits and education. UNO has also waived the $45 application fee for all military and veteran students. They want it to be an easy, comfortable transition from the military to school, and work actively to do so. You can learn about their programs, organizations available, and more here.
Adult Learner: You can complete your bachelor's degree as an adult learner, even with a unique program like the Bachelor's of General Studies degree offered at UNO. It's offered on campus, online, or as a hybrid to students age 21 or older or active military, and offers more than 40 areas of study. The BGS online degree was even ranked as one of the top 20 online bachelor's degrees in the country! Learn more about how to apply here.
Transfer Student: UNO is a great place for students transferring in after completing general credits at a community college or other institution. As long as you meet the GPA requirement for the program you apply to, are in good standing at your previous institution, and have completed transferable coursework from a regionally accredited collegiate institution after high school graduation, you can apply. Learn more about the process here.
Questions? Comments? Want to learn more? Leave them in the section below, anytime!
—
photo credit: Stateuniversity.com