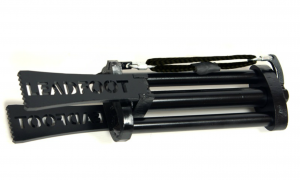 This post is part of an ongoing series of manufacturer profiles. The blogs will cover some of the many names in manufacturing in the state of Nebraska. Check back later for more posts in the series. To see previous posts in the series, click here.
Leadfoot LLC is one of those companies where their mere presence in our state makes us feel a little bit safer. As evidenced by the title, Leadfoot LLC manufactures products for the United States Military, police departments, and other government agencies, as well as the general public.
Their specialty is military-grade door rams, famously nicknamed the "iron fist." This company certainly has some experience with personal safety and weaponry under their belt, and they are using it to make the world a better place.
Design engineer and creator Joseph L. Melton founded Leadfoot LLC out of Bertrand, Nebraska– if you haven't heard of it, you're not alone (Bertrand clocks in at just 748 citizens). While in high school, Melton got his start in manufacturing after designing the first-ever air powered engine mounted to a lawn mower. He took this to the World International Science and Engineering Fair two consecutive years in a row, 2006 and 2007, and was then featured on Fox & Friends for his innovation. Leadfoot LLC isn't manufacturing engines and lawnmowers anymore, but Melton's interest in creating and inventing has resulted in top-notch product for Leadfoot's customers.
Since 2010, Leadfoot has been building and testing attachment rams and designing attachments for shotgun platforms, pistols, and rifles. After rigorous testing, they believe they've designed the best possible door ram for any .223 rifle, the iron fist: designed to bust open any door or lock in existence. If you're not schooled in the art of busting down doors, think of this invention as an easier way to open locked doors as opposed to slinging a sledgehammer 5-10 times. The Iron Fist can open anything it crosses, something that's especially useful for police work. The product even amazes SWAT team veterans who've tested the Iron Fist for the day: "That was perfect…Even if you had to shoot it five times, it's still faster and easier to swing a ram. I was thinking, shouldn't I be working at this? It was easy!"
This is also a company to keep your eye on, as Melton's innovative brain has several new products in store. The Door Knob Puller will swiftly unlock doors without any damage to the structure (useful for law enforcement, but also to save the life of a fallen elderly person, for example).
Inspired by his days working on the lawn mower engine, a fuel economy saver is a new and exciting project, and the company is also working on bringing home American soldiers safely by redesigning the military Humvee turret system controls to be more efficient. There's a lot going on, and it's all very exciting.
While the average person probably doesn't need to purchase The Iron Fist, it's good to know that manufacturers in Nebraska are working hard to look out for our well-being. Learn more about Leadfoot on their website, or leave a comment in the section below!
—
photo credit: Leadfoot LLC