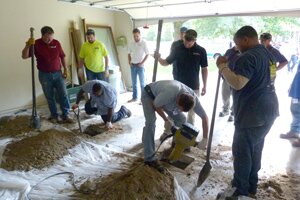 This post is part of an ongoing series of manufacturer profiles. The blogs will cover some of the many names in manufacturing in the state of Nebraska. Check back later for more posts in the series. To see previous posts in the series, click here.
This company made the previously mentioned list of top companies in Nebraska, but if you aren't familiar with the foundation products industry, you might be unaware of their relative success nationally as well as locally!
Today, we'll be featuring Foundation Supportworks, Inc., one of the leading manufacturers of foundation repair and stabilization products. Along with their network of independent foundation repair contractors in the United States and Canada, the company works hard with both residential and property owners to fix failing foundations– a more prevalent problem than many people might imagine.
Another notable point about Foundation Supportworks has to do very much with the reason they made Inc.'s list of top companies in Nebraska: Founded in 2008, the company has added 13 jobs in the past three years, and clocks an astounding growth rate of 140% in the last three years as well. With profits skyrocketing from $16.3 million to $39.2 million, it's clear that they're doing something right over in their La Vista, Nebraska headquarters.
Why are their foundation services in demand? Well, Consumer Reports found that fifteen percent of new homes have serious foundation problems (this means that the percentage for old homes is much higher). From poor construction to expansive soils damaging the home or deteriorating supports, foundation problems affect many types of homes and can cause major issues to the entire structure. Although homeowners can try to quickly fix these problems by patching drywall cracks or tuckpointing exterior cracks, the foundation can rarely be stabilized by these types of measures. Hence, the need for Foundation Supportworks.
In their manufacturing plants, the company creates ways to stabilize failing or settling foundations with their engineered piering system and engineered wall anchored system, as well as reinforce the foundation with a helical pier system. Each stage of the manufacturing process is carefully monitored, and contractors around the country can then use these products to provide solutions to house settlement, house leveling, and slab repair. With free foundation inspections and estimates, the company can provide peace of mind and effective, useful solutions that make a difference for commercial spaces and residences alike.
You can read more about their team here (everyone from marketing to graphics to engineering) to see what makes this successful company tick! And to inquire about careers, contact the company directly. The foundation field is a dynamic, lucrative, and exciting one! To learn more about Foundation Supportworks, leave a comment in the section below or send us a tweet anytime– we'd be happy to help answer your questions!
—
photo credit: Foundationsupportworks.com