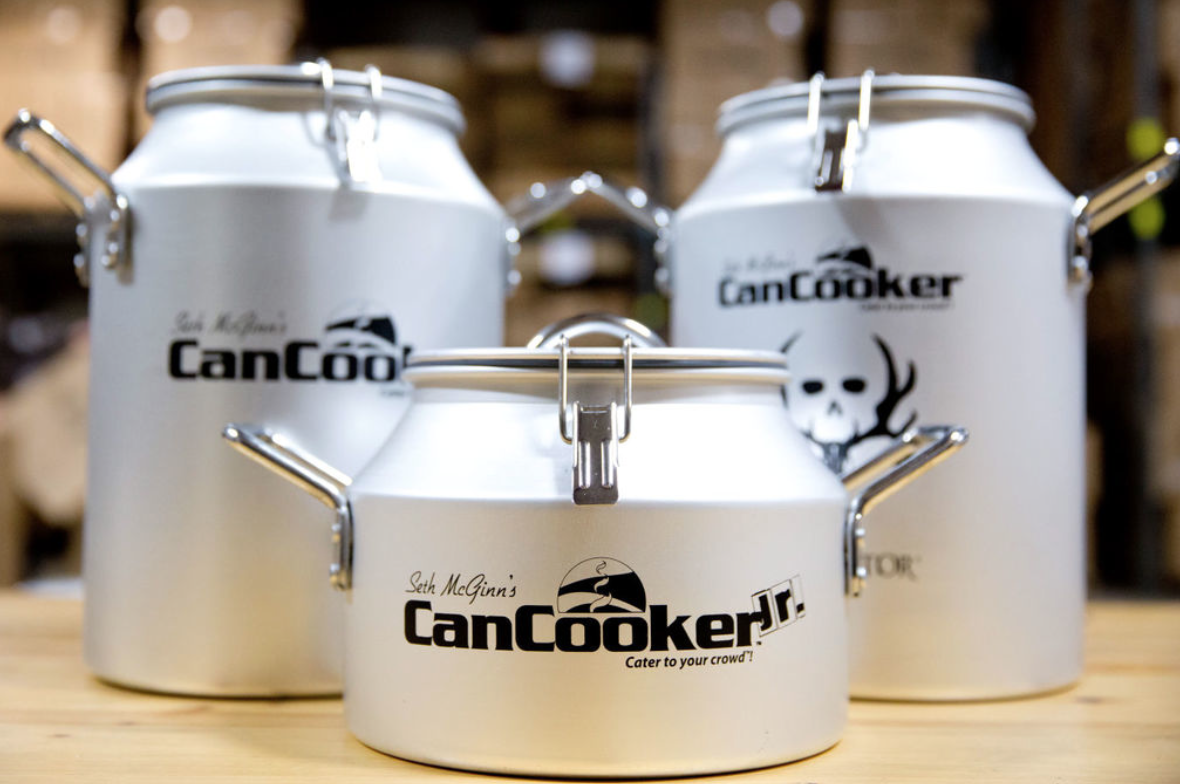 We were completely elated to see the Omaha World-Herald report yesterday on the rapid, explosive expansion of a Nebraska-made product: Seth McGinn's CanCooker.
Fans of the blog will remember that we actually highlighted this company around this time last year as one of our Manufacturers in Nebraska series, as an example of the diverse range of products manufactured in Nebraska.
If you didn't catch the profile, the easiest explanation of the CanCooker is that it's exactly what it sounds like! Inspired by the cream cans that Seth used to cook food in over a bonfire as a child, on a farm in Eastern Nebraska, the CanCooker is a larger and more substantial version of that. The goal is to cook large amounts of food with minimal work (something everybody loves), so the device can be used with stovetops, grills, turkey friers, camp stoves, and more. It's a pretty spectacular invention, as the anodized aluminum allows the food to cook differently than a traditional crockpot. End result? Food that's tender and moist without liquid being leached away.
In recent news, Fremont's Seth McGinn is now actually growing sales of this CanCooker to the extent that he has to add a 10,000-square-foot addition to the already existing headquarters and distribution center! From shipping out of a local storage unit to now being sold in Walmart, Cabela's, and more, McGinn needs to improve manufacturing and order-filling ability STAT: the company received orders for more than 60,000 CanCookers in 2014, says the World-Herald.
This is a pretty spectacular growth, especially for a company with a (relatively) limited product line. With the addition, the CanCooker facilities will push the company facilities to 27,000 square feet. "We're bursting at the seams and it's time to pull the trigger," McGinn said. The company doesn't just sell the CanCooker, they actually have about twenty other product lines. One of these includes a line of spices that's actually manufactured just down the street at International Spices. Seasonings include garlic butter salt, onion pepper seasoning, and more to complement the meals one can cook up in their CanCooker.
Considering that five years ago, the CanCooker was shipping out of storage units and garages, McGinn has experienced quite the change after moving his full time job to develop the company. "We would bring a pallet home from the storage unit, put them in the garage to put labels on them and then take them to the UPS store in West Omaha," McGinn said. "Now, we're the largest FedEx shipper in Fremont."
Especially since we noted this awesome company last January, it's pretty remarkable to see how far they've come in a year. 2015 is going to be an amazing time for Nebraska entrepreneurs– we can feel it! Congratulations to Seth McGinn, and we can't wait to watch the company grow even more.
Questions? Comments? Leave a comment below!
—
photo credit: The Omaha World-Herald via Omaha.com