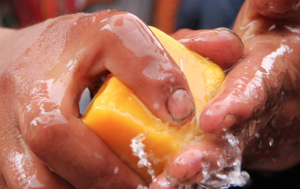 The business model of companies that sell products with some profits that go towards a charity of their choice has been proven to be exponentially successful. Take a look at TOMS, for instance, whose business model of "one for one" began with shoes and has now expanded into sunglasses, coffee, accessories, and more.
For every pair of TOMS shoes purchased, the company will donate a pair of shoes to children in need. Founder Blakc Mycoskie stumbled upon the idea when he was traveling in rural Argentina, and the company has since become both a manufacturing and philanthropic powerhouse. TOMS now gives in over sixty countries, and has provided 35 million and counting pairs of shoes to kids in need.
Hastings resident and Kansas native Andrew Vrbas is following in Mycoskie's footsteps with his for-profit social business, Pacha Soap. Vrbas describes his inspiration to begin the company:
During one of my daily bus commutes in the Peruvian Andes, I found myself unable to concentrate on the book I normally brought along for the hour-long trip. Maybe it was the bumpy mountain pass or the crates of restless chickens that caused me to look out the window at the passing scenery. I had ridden on that route many times; it was just another day. But it wasn't.
That day, I really saw— for the first time— the mud houses, the families digging potatoes, a mother and daughter walking along the road, clothed in hand-woven fabrics colored with natural dyes. The bus's transmission clunked as the driver down shifted to make it up a steep hill. And, as the city of Cusco operated primarily off the income of tourists coming to see Inca ruins, most notably Machu Picchu, the floods had cut off the main source of income for the people of the region.
Thousands of native people were without work in this land of rich natural resources. It was the same earth – or "pacha," in the people's native tongue of Quechua – that had once supplied every need for their ancestors.
My mind was a melting pot for the next hour of the bus ride. I tried to think about what I could do to help. Thus, on that dirt road in the Peruvian Andes, amidst the clamoring chickens, Pacha Soap was born.
Vrbas founded the business in Hastings, NE, aiming to tackle the WASH sector of social awareness (Water, Sanitation, and Hygiene.) For every bar of soap the company sells, they donate a bar of soap to a school in an impoverished country. Andrew and Abi also travel to countries such as Burundi to teach the native workers how to set up soap factories and create the slippery bars themselves. Along with his wife Abi, who mingled hr passion for handmade paper with Vrbas's passion for handmade soap, the Pacha team now has a staff of six. The team creates the soap from the back room of a building in downtown Hastings to over 200 stores, including Whole Foods Market. As the Lincoln Journal-Star says,
"Several large blue barrels full of sustainably sourced palm oil stand next to three tanks where ingredients are mixed to make soap. The smells are strong — rosemary, mint, orange, eucalyptus and ginger. Blocks of freshly made soap are cut with wire and dried in cabinets that once served as wardrobes in Hastings College dorm rooms."
How can you support this local manufacturer? Check out their online shop, and drum up an idea or two for stocking stuffers or hostess gifts. Surprise someone in another state with a holiday package. From fennel lavender to lemon basil to patchouli and coffee, there's a scent and type for everyone to love. And best of all? Not only are you supporting a Nebraskan manufacturer, but you're supporting those in need as well.
—
photo credit: Pachasoap.com