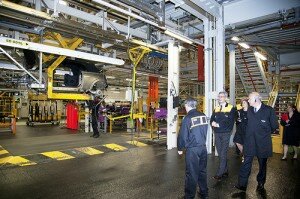 We've highlighted the Career Pathways Institute in Grand Island on the blog before, notably for its spot on our list of educational partners specifically geared to be a middle school and high school technical program. The CPI is fairly new, and just opened its doors to the inaugural class of learners in 2013.
Students involved in the program spend a half-day at their regular high school, and also take daily three-hour courses at the CPI. The institute aims to make their program as true to real workforce environments as possible—they even have students practice "clocking in" with a student ID!
Early this week, however, Harold Reutter at the Grand Island Independent noted some even more exciting news: The CPI will be used by Central Community College in January for evening classes geared toward helping adult students earn a new diversified manufacturing technology certificate! While the evening courses are not exclusive to adults (high school students can take the class if they are qualified to take college courses and are already taking similar courses at CPI), Dan Davidchik, project manager for the grant funding this operation, says, "The focus will probably be more on the adult learner.
The grant is a part of a new initiative for a consortium of colleges, including CCC, Metropolitan Community College, Northeast Community College, Southeast Community College, with the University of Nebraska-Lincoln providing support. Project IMPACT (more information here) is designed to grow Nebraska's skilled workforce, and not just by making sure teens know their options– adults should have the same opportunities, too.
As we mentioned on the blog a month or two ago, manufacturing or the skilled trades are also a good chance for long-term unemployed persons to get started in the manufacturing industry. The CCC program also will particularly emphasize veterans, workers whose careers may have been negatively affected by imports, and the underemployed as well as the unemployed. The evening hour of the classes is designed to help out those who want to learn more, but may have families or day jobs that take up their time.
The classes are pretty exciting, and an awesome opportunity for excited learners. "These are nationally recognized credentials that provide information for workers that are in manufacturing and manufacturing-related careers from entry level on up to first- line supervisor, Davidchik told the Independent. "It covers topics from safety to quality to production and maintenance." The first classes taught will be "Introduction to Industrial Safety" and "Introduction to Manufacturing Technology" during the spring semester, and accelerated summer classes, "Introduction to Quality and Continuous Improvement" and "Introduction to Maintenance Technology" will be offered during the summer 2015 session.
"They may have some of the knowledge. We're hoping they will learn some things to help them be more successful and perform better and get promoted faster and make more money," Davidchik said.
If getting promoted faster, finding a job you love, and making more money sound up your alley, check out the CPI program! If you want to register, call the CCC-Grand Island admissions office at 308.398.7420.
Questions? Comments? We hope you're as excited about this new opportunity as we are, so send us a tweet and let us know how you feel!