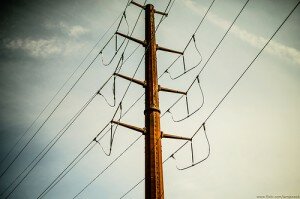 About this time last year, we highlighted the absolutely outstanding automotive technology program at Western Nebraska Community College, a school that is a great choice for those in our state who are located closer to Wyoming than the rest of Nebraska.
They have three campuses in Sidney, Scottsbluff, and Alliance—all located in the Western half of Nebraska (though the majority of courses for the Powerline program are hosted on the Alliance campus). While many of their technical programs are great choices, we wanted to talk a bit about a program that might not be at the top of many applicants' minds, but is an important and fulfilling career.
The Powerline Construction and Maintenance Technology program at WNCC is a twelve month program for a diploma and fifteen month program for an AOS degree, meaning that someone fresh out of high school is welcome to apply, or it can be a good option for those who are looking for a change from their longtime career. Another reason that WNCC's program stood out in particular was due to their 100% job placement rate 3-6 months after graduation. 100% is a pretty amazing number, and wouldn't it be great to head to school with an absolute guarantee that you'll be gainfully employed as soon as you finish?
You see powerlines almost everywhere you go, and they're vital for many reasons, but maybe you've never thought specifically about how they get there or how they're maintained. Well, this program at WNCC will prepare students in everything crucial for the existence of a powerline: installation, operation, maintenance, and repair for local, long-distance, and rural electric power lines and cables, along with learning how to construct power lines. After graduating with a completed program degree, students will be skilled and ready to work as an apprentice powerline technician for utility providers.
And according to the U.S Department of Energy, fifty percent of powerline installers working for electric utilities will retire in the next ten years, meaning that demand for new technicians will be substantial. Starting salaries for this type of job in a rural area average $17-$19/hour (not including overtime) and electric lineworkers earn between $52,290 and $79,397 per year depending on experience. Additionally, most utilities and municipalities provide a fully paid benefits package on top of a salary– not a bad deal by any means.
The program is also a great fit for students who enjoy being outdoors and engaging in physical activity. Besides simply learning electrical theory and basic power line safety guidelines, students will become proficient in climbing skills and will even learn to climb wooden and steel poles up to heights of 45 feet to perform construction, repair, or coworker rescue maneuvers.
To learn more about the diploma or the AOS degree, check out the WNCC website or shoot us a tweet– we'd be happy to help you begin the career of your dreams!
—
photo credit: I Am Janosik via photopin cc