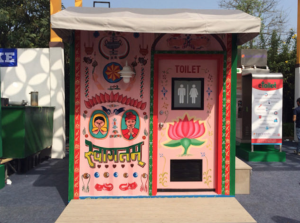 Manufacturing is an incredibly diverse industry in and of itself. When you think about it, it's one of the only areas that truly touches just about every field– after all, it's difficult to have a product without that product being actually created.
Makers in the U.S.A work on our food, homes, equipment, automobiles, hairbrushes, toothpaste, sinks, and literally everything that we use in our daily lives. If it's made or created, a manufacturer somewhere has touched it. It's one of the most exciting things about beginning a career in manufacturing– there are so many areas to work in, and most of them, the average person hasn't even heard of.
Need an example? Take toilets. We have them in our bathrooms, use them in public bathrooms and airplanes and trains, but where do they come from? Well for one, Americans take toilets for granted because globally, approximately 2.5 billion people don't have access to sanitation facilities. That's a huge number. Thanks to the Bill & Melinda Gates Foundation and their Reinvent the Toilet Challenge, creative thinkers and makers have an opportunity to make a difference with a new and innovative toilet. If it sounds silly, imagine not having a toilet to use when you need one, and the issue becomes a little more serious.
And when paired with a big-time manufacturer like Kohler, an innovative and new idea can be implemented in areas of crisis looking for sanitation solutions, like India. The winner of the Gates Challenge in 2012, a group of Cal Tech students, have been working on their proposal for two years, working with Kohler on board as a design adviser.
This past spring, the students debuted a prototype at the India Toilet Fair in New Delhi, showing their world a toilet that is basically a mobile restroom made from a shipping container. The toilet works with solar energy to power the unit, and doesn't even need to be hooked up to water source thanks to a chemical process that creates a disinfectant with the salts in urine.  The design of the toilet was the second part of the process. So, the team hired sign painters to decorate the restroom with tile and graphics. The finished product? A colorful, vibrant unit that could be used in mobile settings or in homes.
For manufacturing students, competitions such as this are influential opportunities to gain grant money for revolutionary ideas. In this particular case, it's revolutionary toilet ideas: other winning ideas include a photovoltaic toilet that sterilizes excrement and turns it into biochar, created by a group of University of Colorado students. Next on the docket is the Reinvent the Toilet Challenge: China, in which the foundation will invest $5 million to support production of the next generation toilet.
If you're a maker, or even if you aren't, keep your imagination thinking about ways you would change the toilet operation system to be more efficient if you had a chance. Who knows? You could be the next recipient of a million dollar grant.
—
photo credit: Gizmodo.com