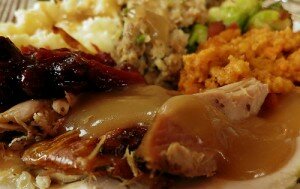 Thanksgiving is one of our favorite holidays, hands-down. What's better than a holiday that revolves around friends, family, and food? It's always a relaxing break, and the true beginning of the "holiday" season.
However, it's important to remember that the holidays are another fantastic opportunity to support local business and industry, especially some of our amazing manufacturers here in Nebraska. Holiday gifts, food, and decorations are all chances to purchase your goods from small businesses and ones you know that are local and sustainably sourced.
In that light, here are a few of our favorite ways to celebrate Thanksgiving and support Nebraska manufacturers at the same time. When one of your guests comments on the outstandingly tender roasted turkey, you'll have the pleasure of knowing that the Thanksgiving centerpiece came from just down the road or a few hours away. Even if you can't do this for your entire celebration, try to incorporate one or two local elements– your community will thank you.
1. The CanCooker: Last year, we highlighted Seth McGinn's CanCooker, manufactured in Fremont Nebraska, and sold online around the world. Switch up your usual method of oven-baking a turkey, and instead use this device to reduce your workload on Thanksgiving Day. The cooker, made from anodized aluminum, allows the steam within to cook the food without detracting from flavor or color. The meat will be tender and moist, and you'll have the satisfaction of knowing that Nebraskans helped make that happen.
2. Jennie-O Turkey: Jennie-O is a Hormel brand, and as we know, Hormel is one of the largest employers in Fremont, Nebraska with 1,400 employees. This year, make sure your turkey is a Jennie-O brand to support the employees that work at that plant, and enjoy your main course at the same time. Check out the Jennie-O website for places you can buy their brand, as well as delicious recipes like a Tex-Mex Roast Turkey, Roasted Turkey with Cranberry, or Rosemary Citrus Herb Turkey. Thanksgiving just got a lot tastier!
3. Enjoy Alternatives: Not everyone enjoys turkey, mashed potatoes, and stuffing, particularly vegans, vegetarians, and those who are gluten-free. It's always kind to offer alternatives to the traditional meal, like soups, salads, or sandwiches that everyone will enjoy. Take a look at the recipe book from Tyson, a company with manufacturing plants in Nebraska, for some great options like pear and chicken gorgonzola salad, apricot glazed Cornish hens, balsamic pork chops, and more for the turkey-opposed.
4. Outsource: There's plenty to bake and cook on Thanksgiving without having to worry about dessert, too. Try outsourcing your sweet finish to an amazing meal with Dragonfly Desserts, Inc. located in Alma, Nebraska. Their delicious goodies like cookies, cupcakes, and our favorite carrot cake will make your day a little easier and taste great.
How are you celebrating your Thanksgiving? Anything we missed? If you think of other great Nebraska-made products that could be a help to others, be sure to send us a tweet or leave a comment in the section below!
—
photo credit: sea turtle via photopin cc