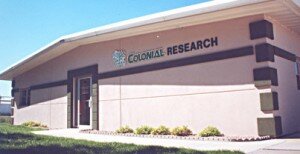 This post is part of an ongoing series of manufacturer profiles. The blogs will cover some of the many names in manufacturing in the state of Nebraska. Check back later for more posts in the series. To see previous posts in the series, click here.
Centrally located in Norfolk, Nebraska, Colonial Research Chemical Corporation is one of the unsung, behind the scenes heroes of our everyday lives. Even if you don't realize it, you're probably using their products in some way or another.
For example, if you've ever been to a high school football game, that lush green turf is most likely due to a CRCC product. "Working as head groundskeeper for 20 years, I've faced many problems in my job. My most challenging would be after installing new sod on a high school football field in 2007. Many issues arose, including an outbreak of weeds and very unhealthy grass. I started using Colonial's C-Lex herbicide…. again, amazing results– turning out lush, thick, and greener turf!" reads a testimonial from Brad, a past customer. What more do you need to know?
Founded by George R. Sullivan in 1970, the very first Colonial manufacturing facility was located in a 5,000 square foot building. But not for long, within a year the product line had doubled and the new building covered five acres— where the company is still located today. In 1976, the warehouse space tripled as the company added new raw material storage tanks and a building for additional warehousing. Today the company's products serve the entire upper Midwest, as well as national customers, through their website.
From grounds control to janitorial to skin cleansers, Colonial's products are the chemical solution for common (or uncommon) problems. For example, need a crawling insect killer? Colonial manufactures Dooms Day, a fast knock out and residual insect killer for up to three months– problem solved.
Fire departments rely on Colonial's Super Wet Wetting agent, which actually makes water wetter in order to extinguish blazes that have a tendency to smolder. Clean off that coffee table with Colonial's Attract-O-Dust, a product that literally acts as a magnet for dust. You can also spray it on walls and floors, and airborne dust will just stick to the treated area.
Superior products like these are manufactured at a high quality, by a company located right here in Nebraska. Best of all, they treat their employees incredibly well, understanding that a gifted team of manufacturers will ensure success and great customer service. Careers at Colonial Research is always looking for sales personnel to work with cities, municipalities, schools, commercial businesses, and more to stimulate growth and bring Colonial products to those who don't know what they're missing yet. It's an exciting field and a great team to be a part of. For more information, send your resume over to Norfolk to begin the conversation.
We're happy to have extraordinary companies like this located here in Nebraska, and proud that the quality of manufacturing in our area is so high. To learn more, send us a tweet or leave a comment in the section below—we're always happy to help!
—
photo credit: Colonial Research Chemical Corporation