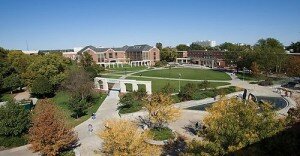 There's some undoubtedly excellent programs to study skilled vocations in Grand Island, Nebraska, including the Grand Island Career Pathways Institute we mentioned on the blog a few months ago. The educational partnership between Central Community College and University of Nebraska-Lincoln is another reason the spotlight has shined on Grand Island in terms of educational opportunities: They're fantastic.
Last Friday, fifteen students from the University of Nebraska-Omaha College of Business had the chance to tour other Grand Island Businesses to learn about the quality of jobs available in the city, and learned that there are some remarkable companies operating not far from where they are attending college.
The Grand Island Economic Development Corporation and Grand Island Chamber of Commerce partnered to host the students for a day of visiting business such as Hornady Manufacturing, The Chocolate Bar, St. Francis Medical Center, and Bosselman Cos.
The Dean of the UNO College of Business Administration, Louis Pol, was looking forward to showing students the success of Nebraskan entrepreneurs, manufacturers, and business owners in Grand Island in hopes that they would become aware of the companies right in their backyard.
"We want to make it clear to students that there are great opportunities throughout the state of Nebraska for them upon graduation," Pol told the Omaha World-Herald. "We want to keep them here in Nebraska.
Students were pleased to see how products were made and businesses began in Grand Island, but their hosts were just as pleased to have them there. Mary Berlie, executive assistant for the Grand Island Economic Development Corp., told the Herald that the tours benefits the industries in Grand Island as well, helping them find talent from emerging college students. This isn't the first tour that the Grand Island Economic Development Corp. has co-sponsored: Last year, 600 students from the University of Nebraska in Lincoln and Omaha journeyed to Grand Island in search of career openings and placements.
And with tours of companies such as the outstanding Hornady Manufacturing, it's evident that Grand Island is home to an incredible amount of businesses searching for newly educated or skilled workers. To inquire about any employment opportunities at Hornady, the yask all qualified applicants to contact them from their webpage to learn more. Another company with a wide variety of job openings is Bosselman Cos; their listings are also available online for those interested in any of the fields they offer work in.
For students, educators, and industry leaders, it's inspiring to see the depth of partnerships in Nebraska dedicated to ensuring that bright and talented Nebraska students can find opportunities within the state. With towns such as Grand Island that have a wealth of jobs and flourishing careers, it's just another reason that the economic development in Nebraska will continue to grow in manufacturing and other business pursuits.
—
Photo credit: ABFM