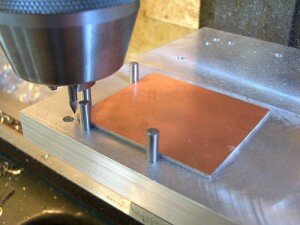 Now, wait just a minute. We talk about additive manufacturing all the time on this blog, but rarely do we discuss its counterpart: subtractive manufacturing. Additive manufacturing refers to processes like 3D printing, which gradually add layers to build a part from nothing. On the other end of the spectrum, subtractive manufacturing uses a block of material, and continues to remove excess until only the desired shape remains.
As robotics journalist Greg Nichols points out, "Additive manufacturing gets all the glory. I think it's because cheap desktop 3D printing is an inherently sexy concept—a technology that can seemingly create stuff out of thin air."
However, a company called Inventables believes that subtractive manufacturing can be just as exciting. "Our goal is to ignite a revolution in digital fabrication," the company website explains. "To do this, we make products that bring out the maker in all of us. We believe that 3D carving is the most effective and efficient way for people to bring their ideas to life." Founded by CEO Zach Kaplan in 2002, the Chicago-based brand has been making waves with their affordable 3D carving ecosystem, which includes both hardware and the company's free Easel software.
In order to showcase subtractive manufacturing to the world, Kaplan announced that Inventables would provide state-of-the-art 3D carving machines to one school in each of the 50 states. John Daugherty, teacher at a Tennessee high school, tells CNN Money, "Most of our students have no clue how things are manufactured. I'm going to have so much fun teaching them."
Daugherty was one of the teachers from 586 schools who sent in submissions explaining why they needed one of the $1,000-$2,000 machines and how they would use it in their curriculums. Kaplan explains that teachers like Daugherty are exactly the type of person they wanted to give a machine to: "We wanted people with ideas and inspiration, but no money, to have access to them."
Nebraska school Heritage Lake Academy was the winner of Kaplan's contest and will be the lucky recipient of one of the beautiful carving machines. Rather than building up, Inventables machines carve into material like wood, metal, plastic, or even wax; they're essentially tabletop versions of larger CNC milling machines used by industrial manufacturers.
Interestingly, their X-Carve machine is customizable. Whether you're carving circuit boards or skateboards, there are two size options, and the company says you can share or modify the machine for any purpose, even commercially. On the website, you can browse through some of the beautiful options and projects that can be done with the machines (like this monogrammed box, home decor, or even electronic accessories).
While we're still proponents of additive manufacturing in many ways, there are certain scenarios in which additive manufacturing literally can't do the trick if there are tricky materials involved. Thus, it's exciting to see subtractive manufacturing coming into its own spotlight, particularly since they're doing so by providing free machines to school STEM classes.
—
photo credit: PCB-fabriek via photopin (license)