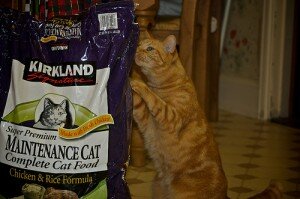 Have you ever walked into a Target or a Wal-Mart, looking for a specific product—say, laundry detergent? You walk down the squeaky white linoleum floors until you find an aisle filled with brightly colored bottles of detergent: some are eco-friendly, some are made locally, some are from the behemoth laundry detergent brands, and some are the store's own version of laundry detergent.
At Costco, the private label brand is Kirkland Signature, at Sam's Club, it's Great Value, Target has Archer Farms and Up & Up. Often, the private label brands are priced significantly lower than name brands, and are relatively (although not always) similar in quality. Do you go for the name brand, or for the private label?
Whereas purchasing private label products used to be stigmatized as cheap or lower-quality, Forbes explains in "No Longer Uncool: Millennials Love Store Brands" that millennials are part of the group making private labels cool again. Take Target's Up & Up, for example. The label is white with one additional color, stripped down, and very basic. This appeals to pragmatic millennials: "When buying products that serve only a temporary need, millennials will be driven by one motivation above all others: saving money." In other words, store-brand laundry detergent will do the trick, and save a buck in the meantime.
However, it's a dangerous balance. Superstores that invest in too many private label brands will find themselves bloated, as Sam's Club was when they found themselves with 15 private label offerings. CEO Rosalind Brewer announced that the labels would be reduced from fifteen to two, something that retail expert Carol Spieckerman says is a result of Costco's enormous success with their in-house Kirkland brand: "Costco serves as an obvious example of how creating a power brand and really getting behind it can move the needle and more importantly, drive destination shopping," Spieckerman says. "Costco has built a tremendous amount of trust and loyalty for Kirkland over the years–it is the envy of the industry."
Many retail experts think that joint promotion between private label and name brand sales should be the answer for corporations that retail on both sides: "Manufacturers should look for areas where private label doesn't have a presence, and discuss placement options with retailers in categories where they don't already have a private-label presence," noted Todd Hale, former senior vice president and consultant, consumer and shopper insights, Nielsen.
On the manufacturing side, it's interesting to note that private label products like Kirkland are often not manufactured by just one manufacturer. Some large brands use excess capacity to produce private label products, but some retailers do in fact own their production facilities. Kroger, for example, has their own plants to manufacture about 40% of their private label brand, including grocery plants, dairies, beverage plants, meat plants, and cheese plants.
And especially with the proliferation of millennials with an affinity to private-label brands, experts expect the future to considerably threaten brand-name manufacturers. Ultimately, both types of business are positive work for the manufacturing industry, but with more options to choose from than ever before, the decisions will be left to the consumer standing in the aisle at Target looking for laundry detergent.
—
photo credit: Molly checks too via photopin (license)