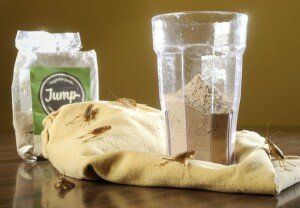 A sip of the protein shake, Jump, manufactured by three University of Nebraska-Lincoln graduates, tastes like a chocolatey, nutritious treat. With 26 grams of protein, 54% of daily iron intake, and 56% of daily fiber intake, the shake also packs quite a protein-filled punch.
The crucial difference between this shake and so many others on the market today is that Jump is manufactured by a company called Bugeater Foods and uses cricket flour as its main ingredient.
Fremont native Alec Wiese and his partner Kelly Sturek joined forces with food scientist Julianne Kopf and owner of All Things Bugs, LLC, in October 2013. According to the Journal-Star, Kopf's idea was to incorporate the powder into a shake: "Julianne thought that it presented more of a challenge than just making a protein bar, and it was still relatively easy to make in a short time span."
Today, the two flavors (coffee and chocolate) are produced by hand in Lincoln, and the chocolate-flavored protein recently had a test run with a Lincoln Hy-Vee store.
So, why crickets? Wiese said that crickets use 90% less water, land, and feed than cattle do, and they have 63% more protein per pound than cattle. In other words, foods like the cricket fortified rice that Bugeater recently patented have the potential to make a major difference in countries struggling to face world hunger issues.
And so far, the taste has been just like any other shake: "We have done all sorts of taste tests and trials over the past two years. Most people are hesitant to try it at first, but almost everybody has liked it. I can think of maybe only two instances where people didn't like the taste of the protein shake."
Bugeater Foods certainly isn't the first to capitalize on the profitability and nutrition of insect-based products. In fact, Fast Company reports that the edible insect sector is now a $20 million industry. As a result, insect farms like Big Cricket Farms are booming, but there's an entirely new job supply chain popping up to support and regulate farmers, manufacturers, and suppliers.
Tiny Farms, based in San Francisco, is an edible-insect consulting firm that develops "insect farming platforms" (think the IoT of insect manufacturing) to help farmers optimize their practices and design more efficient insect habitats. They're just one of many companies convinced that eating bugs is an inevitability. "Cricket meal will be a commodity traded on the stock market, just like oil, orange juice, and coffee," predicts insect farmer Jarrod Goldin.
Goldin co-runs a Canadian outfit called Entomo Farms, which specializes in cricket flour (along with their sales of edible worm snacks and insects, rodents, and pythons bred for pet shops). This article from The Verge describes the process of manufacturing cricket flour, which is fascinating to read—his farm houses over 30 million crickets at one time.
Entomo has even launched a line of gluten-free crickets, and have a Paleo line in the works. Goldin thinks that one day, cricket "meat" could even outweigh steak and chicken as a potential protein source: "One day, we'll be walking through restaurants and giving people eating steak a dirty eye."
Whether or not that day will come anytime soon remains to be seen, but for now, it seems as if the Nebraska startup is on the right track to success.
—
Photo credit: Lincoln Journal-Star