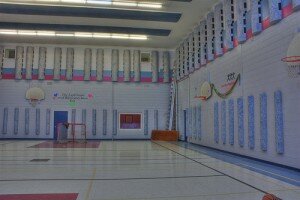 This year, it seemed to be the fashion for retailers not to participate in Black Friday: Think REI's #optoutside campaign, for example. (If you aren't familiar with their Black Friday turn-of-the tables, you can read more about it here!) Another manufacturer who circumvented the traditional Black Friday consumerism is manufacturer and retailer Everlane, already distinct for their unique approach to complete, radical manufacturing transparency.
On Black Friday, they started a Black Friday Fund to which they devoted 35% of each purchase. They will continue to do this until they've hit their financial goal. The company has a 45,000 sq. foot building outside of downtown L.A. where 86 workers come each day to produce Everlane's t-shirts. If you click here, you can scroll down and watch a video of the t-shirts being produced; 13 people touch each shirt before it leaves the factory.
The Black Friday Fund will be completely devoted to a wellness program for these employees: on-site doctor and vision visits, grocery delivery and kitchen upgrades, and onsite English classes. (English is a second language for almost every employee.) They're working to raise about $110,000, and will keep the fund going until they reach that goal.
In that light, we were curious about what kind of wellness programs are usually available at other manufacturers throughout the country. Wellness programs can be considered anything that helps promote a healthy workplace. As Fortune defines it, "Most people can get behind the idea that health, happiness, and productivity at work are related concepts, and that companies have an opportunity to foster all three—to everybody's benefit—with a corporate wellness program."
Here are a few manufacturers we found who are absolutely nailing the employee wellness game. Are there any we missed? Please let us know—we'd love to highlight them, as well!
Draper, Inc.: This Spiceland, Indiana, manufacturer produces audiovisual and presentation products, like lifts and mounts, window shades, home theatre accessories, and more. Mashable placed them on their list of 7 companies with amazing programs, and the company was also voted healthiest workplace in the United States in 2014 by Healthiest Employers LLC. Why?
In 2008, they opened an entire Wellness Park that includes a 1/5th mile track, workout stations, table tennis, and volleyball courts. They hold an annual health fair, and also host Weight Watchers classes, walking competitions, and Zumba sessions. Their wellness coordinator sends out a monthly newsletter featuring "wellness superheroes" who model healthy behaviors in the workplace. Draper president John Pidgeon wrote a post here about the program and the free on-site primary care clinic for Draper employees and their families.
Johnson & Johnson: Most people know this manufacturer for their baby soap, but the company also manufactures a wide array of medical devices, pharmaceutical products, and more. In 2003, they launched an employee wellness program that helped 42% of employees quit smoking, 55% of employees reduce their weight, and 58% cut back on stress levels. They developed a program to help participants track stress levels, as well as other concerns, and they receive personalized assessments on how to deal with their issues.
Hewlett-Packard: Hewlett Packard, a technology company in California, manufactures laptops, desktop computers, printers, and related peripherals. According to a study, 79% of Hewlett-Packard's staff "believe their superiors genuinely care about their mental and physical well-being." Well done, HP executives! The company has built 48 fitness facilities and drew in 54,000 employees to their Global Wellness Challenge for weight loss and exercise.
Are you a manufacturer in Nebraska with an outstanding wellness program? Please let us know so that we can shine the spotlight on you!
—
photo credit: Lighthouse Church of God 1 via photopin (license)