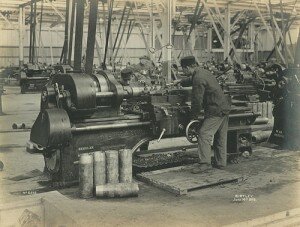 Have you ever stopped to think about where your favorite sneakers or stylish high heels come from? As it turns out, it may have required over 150 people to build those small pieces of fashion and function.
This week, the Motley Fool reported that a quarterly call with Under Armour CEO Kevin Plank revealed that footwear and apparel manufacturing companies have not quite modernized like other companies have; labor costs have been low enough to keep margins high on footwear and other apparel without innovation in their manufacturing processes. However, times are changing and manufacturers are, so to speak, stepping up their game.
Take Under Armour, for example. Plank reported that the company will be commencing with a new project titled "Project Glory," designed to bring footwear and apparel manufacturing into the new age. In 2016, the prolific company will open a facility in Baltimore called "Lighthouse" that will be a 133,000 square-foot renovated city garage to house their effort to reduce human touches on each product.
"So we see an opportunity to innovate the process, increasing our speed to market by introducing local for local manufacturing that will produce better product globally, products as great as our brand, in the most efficient way possible," Plank told investors.
There's no timeline on Project Glory just yet, but investors are waiting eagerly to hear how Under Armour plans to bring increased local manufacturing and technology into their warehouse, especially since the company's stock has been hit hard by falling behind on manufacturing efficiency and sales. And they're not the only shoe manufacturer working to revitalize their processes—New Balance is working to bring a new product to the shoe market in a different way by using 3D printing to manufacture soles.
"In 2013 we said this was the future of footwear manufacturing and today we are proud to bring the future to consumers with a fully 3D printed midsole," president and CEO Robert DeMartini said in a statement. According to footwearnews.com, 3D printing the sole allows the company to customize shoes like never before as they prepare to launch their new, 3D printed-improved shoe first in Boston in April 2016.
To produce the sole, the company combined expertise in running and biomechanics with leaders in plastics engineering, material development, and generative design—a collaboration that could shape the trajectory of running shoe development for manufacturers around the world. You can read more about the process of crafting this special sole here.
And there's more: MIT is working on a 3D printed programmable fabric that snaps into the form of a shoe! It's still experimental, but the precision of their process "would allow manufacturers to specify fit and form to any individual wearer, while the flexibility of the stretchy textile that makes up the shoe itself would allow for a more generic shoe that's form-fitting enough to conform to a wide variety of foot shapes." In other words, the possibilities are endless! Read more about the new shoes here.
Your shoes may be on a whole new level in the next few years! We're sure that 2016 will be a revolutionary period for footwear and apparel manufacturers to get up to speed, and our feet are ready for it.
—
photo credit: Rough facing via photopin (license)