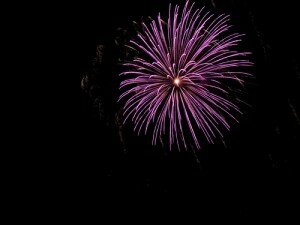 The Fourth of July is coming up, and for many, that means one thing: Fireworks.
Along with a holiday from work, outdoor barbecues, and other Fourth of July festivities, fireworks are a tradition that Nebraskans know and love. This year, make sure to support Nebraskan manufacturers and wholesale distributors as you celebrate America's Independence Day!
As always, we highly recommend safe and legal use of fireworks. Make sure to know what your local ordinances are. There's nothing in Nebraska state law that says it is illegal to set off fireworks, but there are some restrictions on the time of firework sales, according to Cass County Sheriff Wm. C. Brueggemann. Be respectful of your fellow neighbors and citizens, so that everyone may fully enjoy the holiday!
Here are a few Nebraskan companies that manufacture and distribute fireworks in the state:
Bellino Fireworks: This company is headquartered in Papillion, Nebraska, and is the largest non-profit fireworks dealer in the Midwest. With locations in Kansas, Missouri, South Dakota, and Nebraska, the company is family-owned and operated that has existed for over 35 years.
Today, the manufacturer has over 90 locations in the Midwest with eight full-time employees and over 400 seasonal employees. They are affiliated with the American Pyrotechnics Association, the National Fireworks Association, and the Nebraska Retail Fireworks Association. Bellino also tests all of their products with an independent testing laboratory, AFSL, to make sure that everything meets government regulations: "We go the extra mile to ensure that our items are safe and that they perform at a superior level."
Ponca Fireworks Stand: The Ponca Tribe of Nebraska is allowed to open their fireworks stand early, as their Lincoln offices rest on federal trust land which requires the tribe to abide by federal rather than city or state laws. Although they sell their fireworks early, it doesn't mean that people can only shoot fireworks during designated times (again, be sure to check!)
This year, their location is already open in Lincoln and in Carter Lake, Iowa. A favorite of many Nebraskans, the Carter Lake fireworks stand is the tribe's big fundraiser for the year. They partner with Phantom Fireworks, who receive profit from the sales, and the rest goes to the tribe to use as they see fit.
Kracklin' Kirks Fireworks: Located in Waterloo, Nebraska, Kracklin' Kirks is a family owned and operated business that handpicks the best items from various manufacturers to sell out of their Nebraska store. Store owner Kirk Meyers attempts to give buyers an idea of what he's selling, and annually blows up a few thousand dollars worth of it early.
"I don't know anyone that enjoys product testing more than we do," said Josh Myers, Kurt's 23-year old soon. Keep up with their Facebook page to see if you can catch a demo, or just to check out their product line for the year.
Questions? Comments? Want to learn more? Leave your replies in the section below!
—
photo credit: Centennial Terrace Fireworks, Sylvania, OH — 2013 via photopin (license)