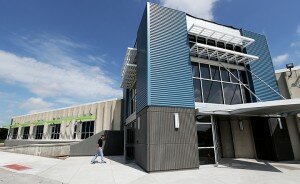 If you aren't familiar with the Grand Island Career Pathways Institute, we'd highly recommend checking out our blog post here with everything you need to know about how their learning schedule works and who attends.
This education spotlight departs a bit from our usual spotlights on community colleges and universities in Nebraska, but the Grand Island CPI is really something special. It's completely designed to be a space where middle and high-schoolers can receive career-oriented, technical education in Nebraska. Their classes range from those in business marketing and administration to human services and education to agriculture, food, and natural resources.
Today, we're going to outline some of the options they have available in skilled and technical sciences, where they train students for in-demand careers, every day.
Manufacturing: This pathway requires 2-4 semesters, and is designed for students with an urge to learn about the manufacturing industry. They'll expose students to the wide variety of careers in the manufacturing industry by way of hands-on activities, guest, speakers, and industry tours of some of the amazing manufacturers in the Grand Island area. Students will use manual mills and lathes, surface grinders, machine tools, computer numerical controlled machining, computer numerical controlled plasma cutting, welding, and casting. Students can attain up to three certifications, including 15 college credits from Central Community College-Hastings or even a General Manufacturing Certificate from Central Community College-Hastings.
Automotive Technology: Whether you want to learn more about automotive technology as a hobby (car trouble? No worries!) or to enter a field with an average entry level salary of $16-20/hour, the transportation pathway will introduce students to the fundamental knowledge crucial to becoming an automotive technician. Courses will prepare students who plan on post-secondary schooling in Transportation, Distribution, and Logistics, or for an entry-level jobs as a specialized technician, master technician, service manager, or shop supervisor.
Welding: Yes, high schoolers and middle schoolers can learn one of the most valuable technical skills there is: Welding. With an entry-level salary of $15-$18/hour and a huge demand for workers to fill welding jobs, the opportunity to learn the trade in a state-of-the-art welding lab is invaluable. Students work on school and customer-related projects and even will have the opportunity to tour local welding shops. This pathway offers an outstanding job placement rate.
Design and Pre-Construction: Future engineers, architects, and interior designers may be interested in learning how to design and build products that will be in demand as the world's population continues to increase. Students learn print reading and reverse manufacturing, then analyze drafting principles and different methodology for constructing their own prints. They also learn parametric modeling, building information modeling, CNC interface, and rapid prototyping. Those interested in actual construction can partake in the sister program, Construction.
Questions? Comments? Want to learn more about any of these skilled & technical sciences pathways? Leave a comment in the section below!
—
Photo credit: Barrett Stinson/The Independent