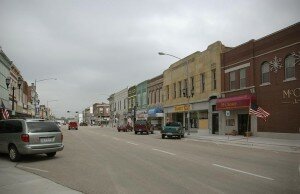 If you're not familiar with Columbus, Nebraska, you may want to acquaint yourself. The town of 22,000 was established early in 1856 by the citizens of Columbus, Ohio who dreamed of establishing a town along the transcontinental railway.
The town has always been a center of industry, as the hub for railroad branch lines like the Atchison and Nebraska from Lincoln and the Omaha, Niobrara, and Black Hills to Norfolk. Buffalo Bill was a frequent visitor to Columbus back in the day, and actually so enjoyed it that it was the site for the first full dress rehearsal of Buffalo Bill's Wild West Show!
In the 1950s, Columbus became known for its industry, agriculture, and power, and eventually became the birthplace of public power in Nebraska. Columbus manufacturing businesses like Behlen Manufacturing Company and Dale Products (now Vishay Dale Electronics) started in garages and out-buildings, and eventually grew to become centers of commerce in the city. Today, Columbus is the most highly industrial city per capita in the state of Nebraska with manufacturing providing employment to over 5,700 people.
So, it's an important place for manufacturing, and always has been in our state. Recently, their "record of success" (as defined by K.C. Belitz, president of the Columbus Area Chamber of Commerce) has increased even further during the past decade: Around $150 million in public and private projects will be completed in the city during the decade, making this one of the greatest expansion and development periods in the city's history. The Columbus Telegram reports that across the state and country, it would be difficult to find another community this size with as much happening.
There's also exciting developments taking place to ensure that the success continues in manufacturing, such as the Columbus Public Schools' STEM Academy. CPS expects to open its new high school in early 2017. Mark Mercer, the outgoing chamber board chairman, says that the school's STEM academy will place an emphasis on introducing students to courses and careers in science, technology, engineering, and mathematics fields, with local business and manufacturing leaders providing insight on the high-demand jobs available here. "It's a win-win not only for the graduates, but the local industry that's in need of workers," Mercer said.
The work shortage in Columbus is, however, problematic. Manufacturers are having trouble finding enough people to do the jobs because baby boomers are nearing retirement age. So, it's important for the world to know about the city's recent accomplishments to attract young families back to the city. The time is now, especially as the city works on a "quality of life plan", including a new $22 million wellness center that combines hospital and community services. "Columbus is just going to be an even better place to live and raise a family," Mercer said.
—
photo credit: Columbus, NE via Nebraskahistory.org